Jackass 3D makes $50m chart debut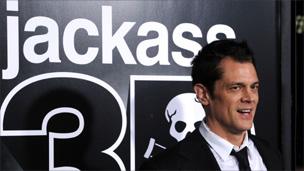 Jackass 3D, the third film outing for stunt master Johnny Knoxville and friends, has topped the US box office with debut takings of $50m (£31.4m).
It is the third consecutive number one opening for the franchise.
It follows 2002's Jackass: The Movie, which opened with $22.8m (£14.4m) in 2002, and 2006's Jackass Number Two, which opened with $29m (£18.3m).
Jackass 3D set a record for the biggest October debut, beating the $48.1m opening for Scary Movie 3 in 2003.
The TV series of Jackass, which launched the career of actor Knoxville, was originally shown on MTV and featured the cast performing potentially self-harming stunts and pranks.
Paramount vice-president Don Harris said 3D lent itself perfectly to the Jackass concept.
"When some guy gets hit in the crotch with a baseball in 2D, it's one thing, but when he's kind of up in your face and it happens, it's another experience," he said.
Action comedy Red, starring Bruce Willis, Helen Mirren, John Malkovich and Morgan Freeman, opened at number two with $22.5m (£14.2m).
Facebook film, The Social Network, dropped to third spot after spending two weeks at number one.
Related Internet Links
The BBC is not responsible for the content of external sites.