Stolen Holocaust art database launched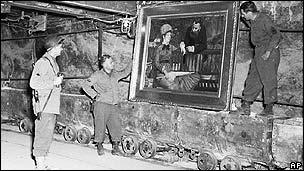 A new online database lets Holocaust survivors and their relatives search details of more than 20,000 artworks stolen from Jews during World War II.
The database of works stolen from occupied France and Belgium between 1940 and 1944 includes Monet paintings.
It is a joint project of the Conference of Jewish Material Claims Against Germany and the United States Holocaust Memorial Museum.
Art collectors, galleries and museums can also make use of the free service.
Hundreds of thousands of artworks were seized by Germany's forces during World War II.
The Nazis often photographed their spoils and meticulously catalogued them on typewritten index cards.
Some of these records, which show what was seized and from whom, have now been digitised and made searchable.
The database combines records from the US National Archives, the German Bundesarchiv and records on repatriation and restitution held by the French government.
According to the Claims Conference - which helps Holocaust survivors and their relatives reclaim looted property - nearly half of the objects may never have been returned to their rightful owners, their descendants or their country of origin.
Chairman Julius Berman said it was "now the responsibility of museums, art dealers and auction houses to check their holdings against these records to determine whether they might be in possession of art stolen from Holocaust victims".
Related Internet Links
The BBC is not responsible for the content of external sites.