Meryl Streep and Maureen Lipman recite poetry for album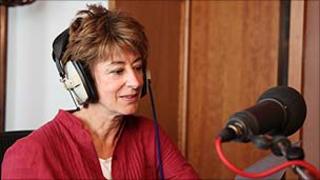 Meryl Streep, Maureen Lipman and Helena Bonham Carter are among actors whose voices can be heard on a new audio compilation of poems.
Words For You: The Next Chapter, to be released on 8 November, follows the success of an original collection, read by leading British actors.
Walt Whitman, Robert Burns and Emily Dickinson are among the poets featured.
Words For You sold more than 200,000 copies in the UK last year and raised more than £50,000 for charity.
Actors' royalties will go to I CAN, a charity that helps children with speaking difficulties.
James Earl Jones, Jim Broadbent and Benedict Cumberbatch are among the other artists appearing on the Universal Records release.
The poems have been set to classical music by composers including Bizet, Beethoven, Mahler and Mozart.
Ahead of the album's release, Lipman has revealed how poetry helped her deal with the death of her husband, playwright Jack Rosenthal.
"This for me was solace," she said. "Now I send poetry which supported me to my bereaved friends."