Comedy Store Players celebrate 25 years of improv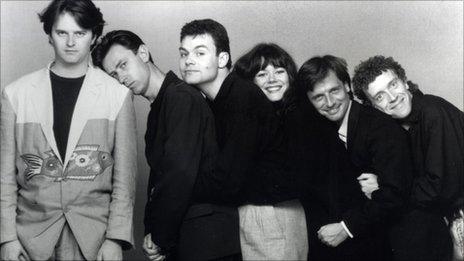 It all started 25 years ago, without a script, in front of a tiny audience.
The night of 27 October 1985 was the first improvisation gig by four comedians under the banner of the Comedy Store Players.
A quarter of a century on, the Players are still going strong, and about to celebrate with an anniversary show at London's Comedy Store.
"Any minute you can be called onto the stage as a Mexican gardener or a Polish butcher," says Paul Merton - one of the longest-serving regulars.
"There are moments of sheer hilarity, and to do that every week keeps you match fit for other things - like Have I Got News For You, or Just a Minute. It's just a joy to be part of it."
The format of the show has changed little in 25 years. It's still a series of role-play games fuelled by random suggestions from the audience. But now it's twice a week to an audience of 400.
It can get surreal: imagine two surgeons conducting a testicle removal operation in the style of a rock opera, a farce and Japanese kabuki theatre.
Or a sketch about javelin-throwing pigs.
Those are just two of the scenarios that came up in a lively Wednesday night show earlier this month.
"We try not to be weird - we try to create some sense," says founder member Neil Mullarkey, relaxing in the communal dressing room after the lively gig.
Mullarkey doesn't remember that first show in 1985 as a landmark event.
"We were only allowed to do the second half of the show. It was kind of terrifying," Mullarkey recalls. "There was a small audience, but it didn't really feel like the beginning of anything."
The other team members that night were Dave Cohen, American Kit Hollerbach and a young Canadian called Mike Myers (still several years away from the Hollywood stardom of Wayne's World and Austin Powers).
Myers and Hollerbach taught the others the improvisation games they had played for years in North America.
After a trial run in Edinburgh (along with Paul Merton), the Comedy Store Players were born.
"The first time I ever improvised with Mike Myers. I remember my head was spinning. It was an out of body experience," says Mullarkey.
By January 1986 the Comedy Store Players took over the full evening slot. Later that year Mike Myers returned to Canada, and the crew now included Jeremy Hardy and Josie Lawrence.
A large pool of guest performers has joined the Players over the years, including Greg Proops, Phill Jupitus, Eddie Izzard and Stephen Frost.
"The only things that's really changed is we've got better, and we're older," says Mullarkey.
"It's wonderfully non-hierarchical. We're an anarcho-syndicalist cooperative, really. We have no legal structure, we have no bank account. We all know where we are.
"On stage we are all equal - apart from my singing."
Paul Merton puts the show's longevity down to the fact that each night is different. "There must be something about the fact that it has the lifespan of a mayfly."
He adds: "If you're on the stage and you get a comic idea you just do it, you don't have to have a meeting about it, you don't have to budget it."
Another long-standing member is Richard Vranch, who was with Mullarkey at Cambridge in the 1980s.
"We've got this down to a level where there's no make-up, costumes, preparation. directors, rehearsal, line-learning, nothing. We just turn up and do it," he says.
"Even if you're knackered after doing a scripted thing, this is a re-energiser. It's going into battle as a platoon not as a lonely sniper."
Is there ever a perfect night? When everything goes right?
"It does happen quite a lot," says Mullarkey. "You don't really remember the particular detail. You remember the feel of it."
Merton agrees: "It's like an old-fashioned ticker tape machine where the stuff gets discarded on the floor. You don't store it."
Vranch adds: "It happens a lot. It's like having a nice dream - but you forget it later in the day."
The Comedy Store Players - Neil Mullarkey, Josie Lawrence, Paul Merton, Lee Simpson, Andy Smart and Richard Vranch - celebrate their 25th anniversary on 31 October at the Comedy Store, London SW1 .
Related Internet Links
The BBC is not responsible for the content of external sites.