Africa United: A tale of hope and football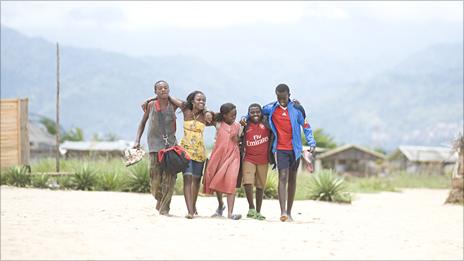 Pardon the pun, but the first pitch for football movie Africa United was simple - "A kid walks from Rwanda to the World Cup".
The eventual film follows the adventures of five children all trying to get to South Africa so that one of them, soccer prodigy Fabrice, can take part in the opening ceremony.
They hitch through Rwanda, Congo, Burundi, Tanzania, Zambia, Zimbabwe and South Africa, escaping wild animals and soldiers trying to recruit children to their armies.
"When we decided to do the movie, some of us did the road trip through all those countries first," said debut director Debs Gardner-Paterson. "We didn't quite have all the adventures the kids did, but it was quite an eye opener."
Gardner-Paterson was approached to direct the film by producer Eric Kabera, who founded Hillywood, a travelling film festival designed to bring movies to the people of Rwanda.
She had directed a short film, We Are All Rwandans and through family, is eligible for citizenship of the country. Was she equally qualified on the football front?
"Believe it or not, my first job was to present Singapore's equivalent of Match of the Day. Although my only success at actually playing football was when I was once voted 'Legs of the Match.' "
Discovering the child actors turned into an international search. None of the cast had acted in films before. Two were found in Uganda, one in Rwanda, and two in the UK.
Roger Nsengiyumva, 16, who plays Fabrice, had been born in Rwanda at the time of the genocide. His mother had fled to the UK, to Norwich, and he had tried out for Norwich City football club.
"The best thing about this film is meeting all my new friends," he said, pointing to his fellow cast members.
"Our new family," added 15 year old Eriya Ndayambaje, who plays the lead role of football manager-meets-Huck-Finn, Dudu.
"We seriously broke every rule making this film," explained Gardner-Paterson. "You're not supposed to work with children because you can do so little filming per day, and we were an independent film on a tiny budget.
"Wild animals aren't a good idea. We have several animation sequences as part of the storytelling. And then, we were trying to film in several African countries. Rwanda eventually set up its own Film Commission just so we could make this movie."
The film breaks other rules too. Made in Rwanda, Burundi and South Africa, it includes many issues other continents would associate with Africa: AIDS, child soldiers, lack of schooling, war and prostitution. But it deals with them in a matter-of-fact, occasionally light-hearted fashion.
"Lots of people in Rwanda said to me, 'Please make a film that isn't about genocide, please tell another story, something that is life-affirming'," said the director.
"Why do we have to engage with Africa just a couple of times a year, and that's when we see sad faces on our screens to fundraise for? These kids were born when the Rwandan genocide was going on, but the future is in their hands. Hopefully these kinds of stories tell what they are really capable of.
" There are kids I have met who maybe don't have much but they are creative and full of joy.
"We deal with all these issues in the movie because they are just things in everyday life that are going on in their countries. But that doesn't mean they are not exactly the same people as those in the West, they just have different choices."
"I think this is a new image of Africa," added Roger Nsengiyumva. "It is such a happy place and, yes, there are bad bits but this movie shows all its colours."
The road trip culminates in Johannesburg, at Soccer City. The crew filmed the final scenes on the day of the World Cup opening ceremony in June.
"We were actually on the pitch forty five minutes before kick off," recalled Gardner-Paterson. "The organizers were amazing, they completely bought into the story. The atmosphere was incredible, but the worst thing was, we went off after finishing the scene to make sure we got people heading to the match so the rest of the shots in the film would be authentic.
"So, we missed the opening ceremony. Tragic."
The film has brought about inevitable comparisons to Slumdog Millionaire. This too is a independent film dealing with the dreams of poor children living in an impoverished part of the world.
And Africa United has also been acclaimed after its world premiere at the Toronto Film Festival last month.
"It is massively flattering to be compared to Danny Boyle, but I really hope no-one will go and see this movie hoping for another Slumdog. It is its own film, and it is much more naive, more of a fairy tale."
A better comparison might be The Boy in the Striped Pyjamas, a Holocaust story which allowed children to understand what happened in concentration camps.
Africa United could be a child-friendly way for many to learn more about problems like HIV.
"We haven't screened it in Rwanda yet," said Gardner-Paterson. "We want to do it in the New Year to coincide with the opening of a FIFA stadium in Kigali. It seems appropriate to tie it in with football."
Africa United opens in UK cinemas on 22 October.
Related Internet Links
The BBC is not responsible for the content of external sites.