Mike Leigh cancels Israel trip over loyalty oath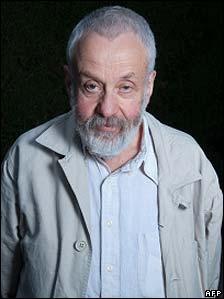 The British film-maker Mike Leigh has cancelled a visit to Israel in protest against controversial plans to compel non-Jewish new citizens to swear loyalty to Israel as a Jewish state.
The director, 67, had been due to spend a week at a film school in Jerusalem in late November.
But in a letter to the school's director, he said Israel's government had gone "from bad to worse".
He called the loyalty oath "the last straw".
Speaking on Monday at the London Film Festival, where he is showing his new film Another Year, Leigh said he wanted to send Israel "a very clear message".
The bill, which has been approved by Israel's cabinet but still has to be passed by the Israeli parliament the Knesset, would add a phrase to the citizenship oath taken by non-Jews, requiring them to pledge allegiance to Israel as a "Jewish and democratic state".
Critics say the move is discriminatory and would largely target Palestinians marrying Israelis. Some suggest that there is a contradiction in describing the Israeli state as both Jewish and democratic.
Leigh said on Monday: "When the time comes that Israel behaves respectably, and when there is a just peace for the Palestinians, and when Gaza is returned to humanity, then I will be first in line to go and share anything that anyone wants to with my colleagues, the Israeli filmmakers and other artists.
"But until that happens I think it's appropriate for all of us to leave a very clear message that we shouldn't and can't do that."
In it, Leigh - himself Jewish - cites the Israeli raid on a Gaza-bound aid flotilla in May and the recent resumption of settlement-building on the West Bank as factors in his decision. The raid on the flotilla in May, which left nine activists dead, was strongly criticised around the world.
"I have become ever-increasingly uncomfortable about what would unquestionably appear as my implicit support for Israel were I to fulfil my promise and come," he writes.
"I have absolutely no choice. I cannot come, I do not want to come, and I am not coming," writes the award-winning director of Naked and Secrets & Lies.
The move is regretted by Mr Schorr, who in his response says "the academic-cultural boycott of Israel... does not arouse the Israeli public... Boycotts and ostracism are the antithesis of dialogue".
Related Internet Links
The BBC is not responsible for the content of external sites.