Authors get the eavesdropping bug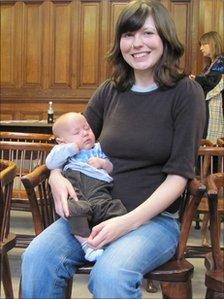 Next time you're having what you think is a private conversation on a bus or a train, beware who might be listening in.
A group of eavesdropping authors spent a day listening in to other peoples' conversations - and have used the random and sometimes shocking snippets they overheard as the inspiration for stories in a new literary anthology called Bugged.
On 1 July, Jenn Ashworth was lying in intensive care, recovering from giving birth to her son Aiden.
But as one of the writers for Bugged, she could not be distracted from her task on that day - to earwig on anyone and everyone to get an idea for a story or poem.
"I couldn't move and I was just lying in bed so it was quite a nice thing to concentrate on," says Ashworth, whose first novel A Kind of Intimacy came out last year.
"I didn't have much else to do but eavesdrop on the things going on around me.
"The line that I overheard was something like: 'Oh I didn't think that sort of woman would have a pair of shoes like that.' It was two midwives gossiping. Because the curtain was round, I think they'd forgotten I was there."
That throwaway comment provided the basis for an entirely fictional short story about a woman who stole a newborn baby from a hospital ward, and Ashworth is not ashamed to admit to being a practised eavesdropper.
"There's an illusion that when people are speaking on their mobile phones that they are in a bubble and they're private," she says. "But you can hear all sorts of things.
"When I was coming into Manchester a couple of weeks ago, there was a man on a mobile phone telling somebody he had to be accountable to in some way - I'm presuming a wife or a girlfriend - that he was just getting into Bournemouth.
"I thought, ooh you dirty liar."
Bugged has gathered stories and poems from 10 commissioned authors, including broadcaster Stuart Maconie, The Archers scriptwriter Mary Cutler and columnist Mil Millington.
There are also 44 submissions sent in by established writers and budding amateurs through the project's website. The book, published using print-on-demand technology, was launched at the Manchester Literature Festival.
The only rules were that all participants had to get their inspiration by eavesdropping on 1 July and that names and places should be changed to protect the guilty.
The idea was born on a train journey during which poet Jo Bell could not help - so she says - listening to a loose-tongued teenager recounting the previous night's exploits.
"I overheard this conversation - a young girl was talking about her sex life," she says. "I thought it was brilliant raw material.
"And I do overhear, I do tab hang a lot. By the time I got off the train in Macclesfield, we had the idea of Bugged."
The resulting submissions were "all very random", she says, with public transport, pubs and supermarket queues the most popular earwigging locations.
"What we noticed most of all was how fantastically unaware people were of what they're saying in the street - really intimate and private details of their lives yelled out on Macclesfield High Street."
While some writers claimed never to have used eavesdropping as a source of material before, many admitted they secretly did it all the time and were delighted to finally have a legitimate excuse, Bell says.
Some complained that they did not hear anything interesting on the chosen day - but Bell says it is an author's job to "turn straw into gold".
"My overhearing was a lady on a train who said: 'I'm sure I had a pen. Where has that pen gone?' That turned into a story about a man whose son had killed himself."
Travel writer and playwright Ian Marchant based his story Rumours, not on an overheard conversation, but on music that came through his bedroom wall in the early hours.
His 23-year-old neighbour played Fleetwood Mac at full volume every night. "I don't think I'd mind so much if he played drum 'n' bass or dubstep like a proper 23-year-old," Marchant wrote.
Listening to gossip and random chatter has provided a rich source of material for his travel books, Marchant admits.
"I do it all the time," he says. "You talk to people on your trips, but I don't think real writers wear MP3 players, so I'm constantly writing things down.
"I heard a girl the other day on the train say: 'My dog's just had kittens'. That's one of the reasons I'm not a fiction writer - because stuff that happens to me and stuff that I see, you couldn't make it up."
The rise of mobile phones has made people prone to unwittingly broadcasting their intimate conversations to those around them, Marchant believes. Which is good news for the enthusiastic eavesdropper.
"In those private worlds people have somehow forgotten that they're in a public space," he says. "They talk as if everyone else has gone."
The stories in Bugged are based on several dozen different overheard conversations, and the perpetrators are blissfully unaware that their loose talk has been immortalised in print.
So if you are having what you think is a private conversation in a public place, glance around to see whether anyone else is listening in - and whether they have a notebook.
"Overhearing is not just essential to what I do," Marchant declares. "It should be essential to what all writers do."
Related Internet Links
The BBC is not responsible for the content of external sites.