Sir Elton John calls modern songwriters 'pretty awful'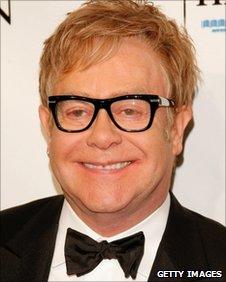 Sir Elton John has described today's songwriters as "pretty awful" and says he is "not a fan" of TV talent shows.
The singer told the Radio Times he refused to be a judge on American Idol "because I won't slag anyone off" and also found TV boring.
He also defended his decision to perform at the wedding of right-wing US talk show host Rush Limbaugh, who has been accused of homophobia.
"I'm a builder of bridges and knocker-down of walls," the 63-year-old said.
The singer, who entered into a civil partnership with long-term partner David Furnish in 2005, will reportedly receive one million dollars (£629,000) for the appearance.
But he said: "I was incensed when people said I was throwing away 40 years of credibility for money. No. I don't need it.
"No-one was more surprised than I when Rush asked. Politically we're opposites. It was an opportunity to break the ice."
Sir Elton told the Radio Times: "I'm not a fan of talent shows. I probably wouldn't have lasted if I'd gone on one.
"Also I don't want to be on television. It's become boring, arse-paralysingly brain crippling. I like Simon Cowell [creator of X Factor], but what he does is TV entertainment.
"TV vaults you to superstardom and then you have to back it up, which is hard. [X Factor winners] Leona Lewis and Alexandra Burke are at the mercy of the next song they can get."
He said Britain's Got Talent star Susan Boyle was "an endearing phenomenon", but "might not understand the rigours of showbusiness".
Sir Elton also said he admired stars such as Lily Allen, Amy Winehouse and Lady Gaga, but added: "It's important they write their own songs, so they're not at the mercy of anyone.
"Songwriters today are pretty awful, which is why everything sounds the same. Contemporary pop isn't very inspiring."
Sir Elton, who is in talks about creating a musical version of George Orwell's Animal Farm, used the interview to criticise the failure to award Strictly Come Dancing host Bruce Forsyth a knighthood.
"I grew up with Sunday Night At The London Palladium and it's an outrage that [former compere] Bruce Forsyth hasn't been knighted," he said.
"I told him that, and wrote a letter to the honours committee. He's part of our lives, like Rolf Harris - a clever, incredibly witty man who always made me feel good."
Related Internet Links
The BBC is not responsible for the content of external sites.