Randy Quaid and wife issued with arrest warrant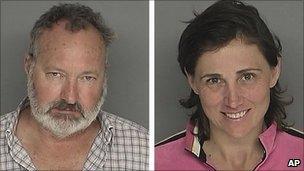 An arrest warrant has been issued for actor Randy Quaid and his wife Evi after they failed to show up at a court for squatting at a California home.
Police arrested the couple last month, who claimed the Santa Barbara property still belonged to them.
It is also alleged the Quaids caused more than $5,000 (£3,158) in damage.
A Santa Barbara official said the couple may turn themselves in sooner, but their case will be called again on 26 October.
Randy and Evi Quaid each face tresspass and vandalism charges.
After the couple's arrest, the property's owners produced documents showing they had purchased the house in 2007 from a man who had bought it from the Quaids several years before.
The pair frequently missed court appearances in an earlier case involving charges they defrauded an innkeeper.
That case was resolved in April after Mrs Quaid pleaded no contest and was put on probation for three years. The charges against her husband were dropped.
Randy Quaid, 60, best-known for supporting roles in films such as Independence Day and National Lampoon's Vacation, is the older brother of fellow actor Dennis Quaid.
Their lawyer was not immediately available for comment.