President Barack Obama to appear on US show MythBusters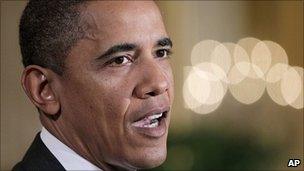 US President Barack Obama has revealed he is to appear on the TV series MythBusters, a US show that uses science to separate fact from fiction.
His appearance is part of a White House effort to increase interest in science, maths and engineering.
Speaking at a science fair event, Mr Obama revealed he was a "little frustrated" at how he had not blown anything up during filming.
His episode will be shown on Discovery on 8 December.
The White House drive to bolster interest in science and maths comes as experts warn that a lack of enthusiasm in the subjects among students could damage the economy in the future.
Mr Obama's episode of MythBusters will examine whether it was possible for Archimedes to set fire to an invading Roman fleet using only mirrors and rays of the sun.
On Monday the president hosted a White House science fair celebrating students who have won science, technology, engineering and maths competitions.
"We welcome championship sports teams to the White House to celebrate their victories. I thought we ought to do the same thing for the winners of science fairs and robotic contests and math competitions," Mr Obama said.
Related Internet Links
The BBC is not responsible for the content of external sites.