Bruno Mars: The man of the moment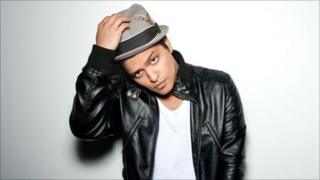 Bruno Mars is very much the man of the moment.
The singer, songwriter and producer may only be 25, but he has already notched up an impressive CV.
The list of artists he has produced and written for is an illustrious roster of chart stars including Flo Rida, Alexandra Burke and B.o.B.
But after years of working behind the scenes, Mars has started to carve out a career for himself as a solo artist.
"I signed up to be a musician, I want to perform, I want to sing," he says.
Born Peter Gene Hernandez in Hawaii, Mars began performing from the age of 4, impersonating well known artists before deciding to make music his career.
After moving to California, the star managed to sell one of his songs, which "helped pay the rent".
He explains that first small step confirmed what he already knew, that he wanted to continue pursuing his musical career.
He first came to prominence as a solo artist after featuring on and co-writing B.o.B's Nothin' on You and Billionaire by former Gym Class Heroes frontman Travie McCoy - who Mars is now touring with.
"He's such a warm dude, don't let the tattoos fool you, he's a teddy bear and he's a mentor to me," he says.
"I remember when we were doing the video for Billionaire, he kept telling me to look at the camera. He's been doing it for so long and I'm the new guy, so he was kind of coaching me through the music video."
Now that Mars is performing music as well as making it, he admits being in the public eye takes a bit of getting used to.
"It's not like the movies, I've learned that. I thought it was but even when you get signed, you think that hit records are going to fall into your lap and you're going to tour but it's not like that at all.
"You really have to come into it with the whole package, as a salesman, you've got to say, 'This is who I am, this is my music, get in or get out'. You have to really bring something to the table."
'Paparazzi'
In September, however, Mars was dealt his first bit of bad press when he was arrested and charged with cocaine possession in Las Vegas.
The singer refuses to talk about the incident but says he does not see himself as a role model and has not received any media training on how to deal with the press.
"No, I'm a people's person, I love talking to people, so that's never been a problem to me," he says.
"Fortunately there's no paparazzi waiting for me outside, which is something I hope will never happen. I don't mind talking to whoever."
Mars' debut album, Doo-Wops & Hooligans, was released earlier this month in the US and entered the Billboard album chart at number three.
His UK fans will have to wait until January for its release.
But despite his success across the Atlantic, Mars remains laid back, revelling in deadpan jokes throughout the interview.
When asked what age his main fan base are, he suggests "73 and upwards".
He describes his music as "very Jesus meets Fergie" and jokingly insists he first knew he was going to be a performer from the age of six months.
The singer is days away from finding out whether his song Just The Way You Are is heading back to number one in the UK.
The song, first released four weeks ago, has seen record sales boom again since Matt Cardle sang it on last week's X Factor.
"It's an honour," Mars says.
"I grew up watching American Idol, so knowing they're performing the song on such a big platform is great."
But had he not already achieved a musical career, would Mars have applied for a similar talent show?
After a long pause, he says: "I don't know, I would like to have known how I would have done, that would be nice.
"But I'm coming out singing the songs that I have written and produced and worked so hard for, so it's kind of hard for me to think about being on a show like that where it's basically just singing other people's songs."
Bruno Mars is on tour with Travie McCoy until 3 November.