Harold Pinter honours acquired by British Library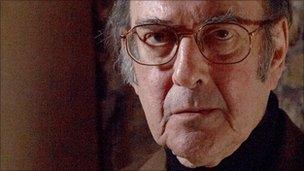 Harold Pinter's Bafta Fellowship mask and Nobel Prize medal are among more than 50 of his awards acquired by the British Library.
The honours, obtained through the government's acceptance in lieu scheme, will be kept with the library's Pinter archive which it acquired in 2007.
"This is what Harold would have wanted," his widow, Lady Antonia Fraser, said.
The collection includes awards from France, Italy, Chile and Cuba.
The British Library said Pinter's Nobel Prize in Literature medal, which he won in 2005, would sit alongside handwritten notes and 19 typed drafts of his acceptance speech which are already in the collection.
"He was extremely proud of his awards but even prouder of his manuscripts, already in the British Library," Lady Antonia said.
"He used to say that the manuscripts earned the awards so it is right that they should be together."
Awards including his 1960 Evening Standard play of the year award for The Caretaker, and his Moliere d'honneur medal are in the collection.
The medals, plaques, medallions and original artwork won by Pinter - who died in 2008, aged 78 - include the 2004 Wilfred Owen Prize, awarded after he wrote controversial poems opposing war in Iraq.
Under the acceptance in lieu scheme, people can transfer important works of art and heritage items into public ownership instead of making inheritance tax payments.
Related Internet Links
The BBC is not responsible for the content of external sites.