Tom Bosley dies: Your reaction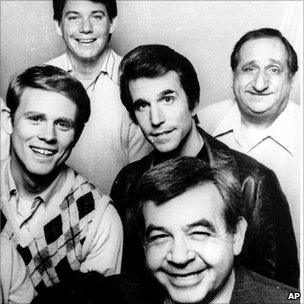 Veteran US actor Tom Bosley, most famous for playing all-American father Howard Cunningham in the 1970s TV series Happy Days, has died aged 83.
The star, who had been suffering from lung cancer, passed away at his home just outside Palm Springs, his family said in a statement.
Henry Winkler, who played The Fonz in Happy Days, paid tribute to the actor, saying: "He was our television father on the sound stage, but a father figure in real life."
BBC News website readers have been sharing their memories of the actor:
Tom Bosley was really the number one TV dad, because he was real and funny, not absurdly wise and perfect. I loved Happy Days and it got better and better over time. Tom Bosley was one of the main reasons for that growth. Joan Stuchner, Vancouver, Canada
Tom Bosley was one of a tradition of actors who gave the impression to Americans that the world was OK and safe. Happy Days was a pleasant sitcom, but in it he played very well a decent middle-aged small town man whose values were somewhat tested by those of his son and his friends, including the Fonz. The mid 1950s must have been a terrifying era for a lot of older people and I think that might have struck a chord with those among the public who could remember those days - but Howard Cunningham taught us not to be afraid of change. John Gammon, Brighton, UK
The one episode that will always stick out in my mind is when Richie Cunningham was having a party and he invited a black friend. No white people showed up because of the invitation to the young black student. Everybody was very upset. Fonzy said that it wasn't cool and Tom Bosley replied, "Cool's only been aroung since [jazz musician] Benny Goodman, racism has been around forever." Edward Sullivan, Oshkosh, Wisconsin, USA
Go way back to "Wait 'Til Your Father Gets Home". His voice was just brilliant for the part of the father and may just have given Matt Groening an idea or two. Very sad news. Fordington Field, Dorset, UK
After dinner, our nine-year-old son would go to the living room to watch the show and laugh so hard. The show was a must week after week. Personally, I was envious of Richie's life and wished my own childhood had been even slightly as wonderful, encouraging, supportive and loving. Dona, Irving, USA
I was lucky enough to grow up with the Happy Days show in the 1970s and loved every minute of it. The characters were perfectly cast and the scripts were wonderfully written - I never missed a show. We all wished we had a dad like Howard Cunningham as he was a jolly, loyal and funny person who loved his family. Looking back, I think it may have shaped me into the person I am today. I feel every boy and girl should have the opportunity to watch such classic TV, but sadly only the 1970s produced such gems as this. Simon Clarke, Swansea, UK
I saw Tom Bosley on Broadway in Cabaret in 2003 with Molly Ringwald and Neil Patrick Harris. He was excellent but the highlight was the spontaneous audience applause when he first came on stage, as if it were a Happy Days recording. Bill Badger, Romford, UK
A fantastic actor who played an iconic father figure who still inspires me as a dad today. Simon Stuart, Wallasey, UK
I grew up with Happy Days and really wished I had a pretty cool dad like that, who was able to see around any situation and always laughed at the family. It was a good all round show centred on good communication, something which has now long since disappeared within families. How everyone cared for each other - not until you get older do you appreciate the old TV shows. Tom Bosley was a big part of my growing up - if I ever have that is. Anon, Lytham, UK
I actually conducted Tom Bosley's last interview on 2 March, 2010. He was an insightful, caring man and it was an honour to speak to him. JoAnn Kubasek, Fort Lauderdale, Florida, USA
My memories of Tom Bosley are most centred on his role as the Sheriff in Murder She Wrote. The witty yet slightly simple law enforcer who always helped Jessica Fletcher without even knowing he did it. I thought he was great in that role as well as in Father Dowling Investigates. Tom Bosley was a great actor who will not soon be forgotten. Sarah Sheikh, Greenwich, UK
Tom Bosley was such a wonderful actor and his character on Happy Days, Howard Cunningham, was simply a great dad for America to see on a weekly basis. Tuesday nights, 8pm, ABC - my three sisters and I watched the show with our parents and loved every episode. It is sad to say that television in America today is an absolute wasteland when it comes to great family shows. I have decided to go out and buy the DVDs of these shows just so my children will grow up with great programmes like Happy Days, The Waltons and such. I am lucky to say that I saw one of the best actors portray such a wonderful character during my youth. Kandace Loge, Nelsonville, Ohio, USA