Dancing With The Stars to feature same-sex couple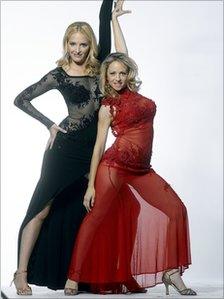 Israel's version of Dancing With The Stars is to include the show's first same-sex couple in the new series.
TV presenter Gili Shem Tov, who has a female partner in real life, said dancing with another woman felt "natural" to her.
She will be partnered with professional dancer Dorit Milman when the show's sixth season begins on 1 November.
The couple will take it in turns to take on the traditional male role of leading the dances.
Dance professional Milman, who is heterosexual, has appeared on the programme since its first series.
"I have realised that dance is about co-ordination and energy between two people, whether female or male," Tov said.
"The challenge to dance with a woman in a public contest interested me because it's unique and has never been done before.
"Because I share my life with a woman and have a family with her, to me this is the most natural thing to do."
The show - known as Rokdim Im Kokhavim in Israel - will also feature a guest appearance by Pamela Anderson.
The former Baywatch actress, who took part in the US version of Dancing With The Stars, will make two appearances in the Israeli show, where she will comment on the dances and perform her own routine.
Twelve celebrities, including Israel's boxing champion Merhav Mohar and singer Sharon Haziz, will compete in the competition until the end of January 2011 when the winner will be selected by public vote.