EastEnders to be broadcast in HD on Christmas Day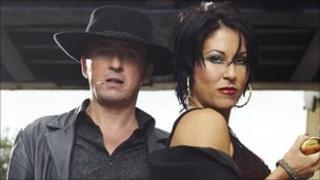 BBC One show EastEnders will be broadcast in high definition for the first time on Christmas Day, the corporation has announced.
The soap will join other shows such as Doctor Who and Top Gear which are already being shown in the HD format.
EastEnders executive producer Bryan Kirdwood said the show would be "even more spectacular" in HD.
The BBC One HD channel will be launched on 3 November, which will simulcast the BBC One schedule.
The majority of popular shows including The Apprentice, Strictly Come Dancing, Children in Need, Antiques Roadshow and Countryfile will be shown in HD.
Shows which are not made in HD - including EastEnders up until Christmas Day - will still be shown on BBC One HD, but will be upscaled.
Upscaling does not offer the same picture quality as HD.
Jana Bennett, head of BBC Vision, said: "Whether it is seeing the flicker of irritation on Lord Sugar's face in a boardroom showdown or watching the beads of sweat fly from the dancers on Strictly, BBC One HD is the biggest sign yet that HD viewing is now part of the mainstream."