Voice of an Angel Charlotte Church lets the music talk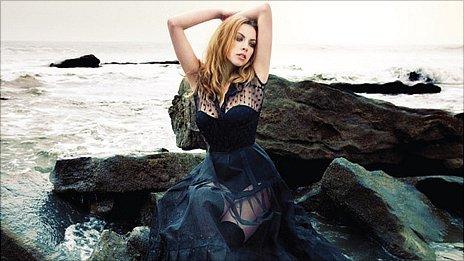 "I should be completely off my trolley by now, shouldn't I?" says Charlotte Church.
The life of the 24-year-old singer, who started out in showbusiness 13 years ago, has been the subject of tabloid fodder for almost as long as she has been famous.
"I think I've just got a good sense of perspective to be honest," she explains.
Growing up in the public eye was not easy for Church, who was dubbed the Voice of an Angel.
The star's every move has been scrutinised, leading to criticism over her drinking, smoking and love life.
The mother of two continues to be written about, with numerous column inches devoted to her weight loss and break-up with rugby player Gavin Henson.
Despite all that, Church is refreshingly down to earth.
"I never really indulged in the whole fame thing. I just wasn't interested in the whole scene, because I found it quite shallow," she insists.
The singer says she is at her happiest when with her family or out with friends.
But despite her wealth, Church insists the drinks are not always on her.
"We go in rounds and stuff, but sometimes I'll have a party at my house and no-one has to bring anything, so I'm pretty generous.
"But at the same time you have to have that give and take, which is what sustains a relationship, otherwise you just feel that people are taking the mickey out of you."
Dressed in a high street dress, with minimal make up and slurping on a pot of honey to protect her voice for a later TV appearance, Church is busy promoting her second pop album, Back To Scratch.
Church says the title was chosen because it is representative of where she is at the moment.
"I think musically I've gone right back to square one and also because of what has happened in my life."
The album bridges the gap between Church's first pop album from 2005, Tissues and Issues, and her classical roots.
"The sound on my last album wasn't at all well represented by the singles that came out," she says.
"Crazy Chick was a great song and it served me very well, but wasn't really me.
"I think a lot of the time on my last album I was really fighting the whole classical world that I'd just come from.
"I was really pushing back against that, but I've kind of embraced it a bit more on this one because it's my roots and I'm proud of it and I'm proud that I learnt to sing like that."
In 2006, when Church and Sony - her record label at the time - went their separate ways, she began to focus on her young family.
But four years later when she returned to the recording studio, Church decided the next album would be made her way, "without the suits telling me what to do and wear".
The tracks on the self-financed album showcase Church's vocals beautifully, with some honest and thought-provoking lyrics which Church admits are derived from previous life experiences.
"You've got to draw from somewhere," she says.
"A lot of it is about me and Gav and me and my mum. But it's not quite so literal that every time I talk about a relationship it's about me and Gav."
She says the album might help people realise that a lot of what has been written about her in the past is not true.
"If people are willing to go and spend however much on stupid magazines to read about me, then you're going to get it [the truth] in a much better and nicer art form on my album."
The star says the press has now become "an uncontrollable machine" which frightens her.
"I wouldn't mind if they reported what actually happens in my life, which is really rather boring to be honest, but when it's lies and complete doo-doo, that bothers me a little.
"It's no longer fish and chip paper because it's recorded on the internet, so I'm going to start being really tough.
"If it's a lie or completely made up, then I'm going to have to sue, which is a real bore, but I can't really see any way round it.
"I'm not going to have a rant about the press, because they've helped me at certain points in my career. I'm a very lucky girl and I've done very well," she says.
But it begs the question why she has featured several times in the glossy magazines Hello! and OK!
"The only reason I did those articles is because they are the only people who actually print what you say," she explains.
"When my children were first born, there was such a clamour to get the first pictures. So I thought I would take the value out of the them.
"I wasn't using my children, I was merely trying to keep them safe and actually make some money to put into a trust fund for them."
Her weight loss has also been closely documented in the gossip pages.
But Church insists she is a healthy nine stone which is her "natural weight" and insane diets or extreme exercise has had nothing to do with it.
"I don't work out at the gym - I haven't got the time to. I'm running around after two small children all the time. There was a little bit of the heartbreak diet involved in it too," she says.
"But I'm not really conscious of what I eat and what I do because I have much better things to do than spending an hour and a half putting my make-up on, doing my hair and finding a banging outfit and going to the gym."
Charlotte Church's album Back To Scratch is out now
Related Internet Links
The BBC is not responsible for the content of external sites.