Paranormal Activity sequel tops US box office chart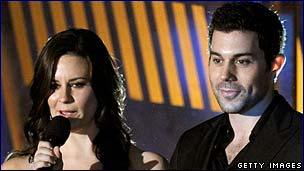 Moviegoers in the US and Canada have flocked to the sequel to 2009 horror hit Paranormal Activity, which scared up takings of $41.5m (£26.3m) during its first three days on release.
Set prior to the events of the first film, it tells of an American family living in a haunted house.
The Paramount release knocked last week's chart-topper, stunt-based comedy Jackass 3D, down to second place.
Early figures suggest the film made £6m in UK cinemas over the weekend.
Paranormal Activity 2's success surprised even its makers, who had been expecting it to make around $30m in its opening weekend.
Its low-budget predecessor became a word of mouth phenomenon last year, eventually making more than $100m in North America.
Little information was disclosed about the sequel ahead of release, according to its studio's executive vice president for distribution.
"We tried to treat it a lot like the first one was treated from a publicity and marketing standpoint," said Don Harris.
Action comedy Red fell down to three in this week's countdown, with Clint Eastwood's supernatural drama Hereafter making its chart debut at four.
Starring Matt Damon as a reluctant psychic, the film made $12m (£7.6m) on general release after previously playing in selected cities.
"We're in the marathon business, not the sprint," said Dan Fellman, president of domestic distribution at Warner Bros.
"I always tell Clint. 'Let's not talk about the first weekend. Let's talk about the third."