Warpaint triumph over gig terrors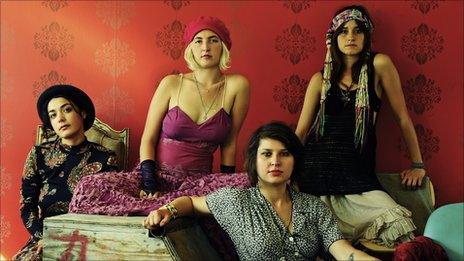 Fresh from supporting Mercury Prize winners The XX and being hailed as "the rock revelation of the year" by one national newspaper, Los Angeles band Warpaint reveal why they feel like they are "going to fall off a cliff" when they play live.
Despite only releasing their full debut album on Monday, Warpaint already have a story that is richer than most bands can muster.
The band's guitarists and principal vocalists Emily Kokal and Theresa Wayman became firm friends aged 11 when they were being taught by a "slave driving" choir teacher at high school in Eugene, Oregon.
At the group's first practice session on Valentine's Day 2004, they were joined by sisters Jennifer Lindberg on bass and Shannyn Sossamon on drums. Sossamon had starred opposite Heath Ledger in the film A Knight's Tale and eventually left the group to pursue a Hollywood career.
Kokal, meanwhile, dated former Red Hot Chili Peppers guitarist John Frusciante, who mixed the band's debut EP Exquisite Corpse, which alerted the world to the group's absorbing, spectral charms.
After a long search for a permanent drummer, their line-up has been completed by Australian powerhouse and Frusciante collaborator Stella Mozgawa, who played on The Fool, which the Sunday Times has described as "one of the debut albums of the year".
Speaking backstage before a gig in Manchester, the quartet pick up each other's trains of thought and reach instinctive agreement on matters of life and music, happy to be seen as kindred spirits, best friends who happen to be in a band.
"We were friends before we started a band," Lindberg says. "That's why I like the band so much.
"A lot of it has to do with how close we are with each other and how willing we are to communicate with one another on a personal level. So when it comes to music I think our communication is pretty rare."
Part of this shared mindset comes from being brought up in households where music was central to family life.
Mozgawa's parents performed as a duo when she was a child, while Kokal's mother took her in tow when selling textiles or coffee at festivals.
"I was raised around a lot of live concerts," Kokal says. "That was pretty much the constant in my life - even more than the things that are the constants in most people's lives, like school.
"Our parents are all really cool in their own ways and raised us in a way that liberated us to be who we are."
The close-knit relationship extends to the stage, where they often take off on an improvised instrumental tangent during gigs, jamming without quite knowing where they will end up.
"It's terrifying," Mozgawa admits. "Sometimes it's so scary and you feel like you're just going to fall off a cliff," Wayman adds.
"And that's exhilarating in its own way. And then sometimes it's perfection. Sometimes it's so great and things just go together in this spontaneous way. It's flawless. And that also is so exhilarating. So it's worth the risk."
Their songs are composed through a similarly spontaneous process. "We did that today in soundcheck actually," Lindberg explains. "It just happens. It's really easy to do that - that's how all of our songs are written."
The collective confidence, hip backgrounds and freedom of spirit all contribute to the group's sound.
Above all, Warpaint are about the sound - woozy, alluring, sensual, slightly discomfiting, with three-part harmonies that reverberate softly on record and become sharper on stage.
Their freewheeling style often maximises mood over melody, with tunes rarely conforming to conventional structure and changing pace and direction at unexpected turns, yet still somehow hanging together.
They sound like the Twin Peaks high school band or the Shangri-Las after having their drinks spiked.
All of which means they are not easily accessible or overtly commercial. But they are a breath of fresh air for those searching for an alternative to the same old alternative rock.
Related Internet Links
The BBC is not responsible for the content of external sites.