Peter Mandelson documentary paints 'accurate picture'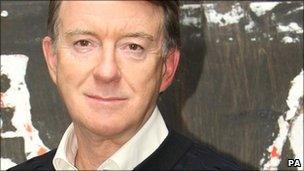 A documentary following Lord Mandelson in the run-up to the general election paints "a pretty accurate picture" of ministerial life, he has said.
The former business secretary said Mandelson: The Real PM? showed all the "downsides and other events" of ministerial life.
The Hannah Rothschild-directed film was premiered at the London Film Festival.
The director said the project had been "like being in the wake of a Great White Shark".
"He never stops, he is all seeing and all knowing," she said.
"I think that is exactly how he is - he is a very pragmatic kind of guy.
"He is not a touchy-feely diva at all."
Mandelson said he was not sure "whether people will discover the real Peter Mandelson from the film but we will have to wait and see".
The 57-year-old is seen in the film describing then-prime minister Gordon Brown as "a cross between a snowplough and a combine harvester".
During a discussion about making Mr Brown more media-friendly, he is shown saying: "I've given up - I'd settle for the tie being straight."
Lord Mandelson, a principal architect of New Labour, was recalled to the cabinet by Mr Brown in 2008.
He previously resigned from government in 1998 and, after his return a year later, stood down again in 2001.