Arts Council England outlines cuts plan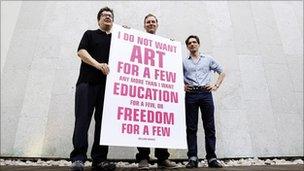 Arts Council England (ACE) has outlined a four-year plan to cut spending, with a 7% first-year reduction for regularly funded organisations.
ACE's budget is being cut by £100m between 2011 and 2015 as part of the government's Spending Review.
Regularly-funded bodies will be subject to cuts of 15% in real terms across the four years.
The body's fund which supports touring and audience development, is to be cut by 64%.
Chair Dame Liz Forgan said they were "severe cuts".
She added they were worsened by the fact that the majority of them are being implemented in the first two years.
Cultural bodies including the Welsh National Opera currently receive ACE funding to assist their tours across the entire UK, but it has not yet been determined how the cuts will be allocated.
Regularly-funded organisations are being asked to take on more responsibility in the field of audiences and touring.
Other areas that will see their budgets cut under the new proposals include money to promote the arts in schools as well as Arts and Business which will be no longer funded from 2012.
Colin Tweedy, the body's chief executive, called it an "extraordinary and potentially very damaging decision".
But ACE insists that working with children and young people will remain an "absolute priority".
Alistair Spalding, chief executive of the Sadler's Wells dance company said the cuts meant that planned building improvements would be postponed.
"I think it's going to be up to large organisations to help smaller organisations as much as they can," he added.
Related Internet Links
The BBC is not responsible for the content of external sites.