Fiddler on the Roof writer Joseph Stein dies aged 98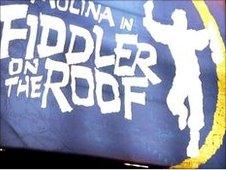 Playwright Joseph Stein, who wrote hit Broadway musical Fiddler on the Roof, has died aged 98 in New York.
He went on to write the screenplay for the hugely successful 1971 film adaptation of the classic Yiddish story which starred Topol as Jewish peasant milkman Tevye.
Stein died at a medical centre on Sunday from complications after a fall, his wife Elisa said.
The writer had been in hospital suffering from prostate cancer.
Stein, who won a Tony Award for his work on Fiddler, wrote the story for nearly a dozen other musicals including Zorba and Mr Wonderful.
He also wrote for early radio and for television shows.
Stein worked for stars including Sid Caesar and Phil Silvers but his biggest hit was Fiddler on the Roof, which opened in Broadway in 1964.
The musical, set in Tsarist Russia, revealed Tevye's struggle to uphold his cultural traditions when faced with rebellious daughters and a domineering wife.
It gave rise to several popular songs, including If I Were A Rich Man and Sunrise, Sunset which turned Topol into an international star.
The film picked up three Academy Awards, including best music.