BBC Two's Culture Show censured over errors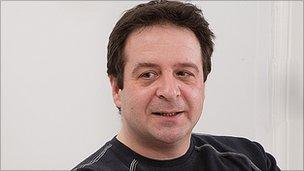 A BBC programme has been censured after a report about music file-sharing was found to contain inaccuracies.
UK Music, which represents the music industry, complained about a segment on BBC Two's The Culture Show looking at a new law intended to tackle piracy.
The report was fronted by comedian Mark Thomas and broadcast in February.
The BBC Trust agreed that two points were factually wrong and has upheld part of the complaint. But it rejected a claim that the report was biased.
The 10-minute report examined the powers the Digital Economy Bill would give authorities to crack down on unauthorised file-sharing. The Bill was going through Parliament at the time.
UK Music chief executive Feargal Sharkey - former lead singer of The Undertones - said the show's interpretation was "grossly misleading and inaccurate" as well as being biased.
In the BBC Trust's findings, the corporation's governing body agreed that one section about how perpetrators could have their internet accounts cut off "had not been sufficiently precise and had been inaccurate".
It also ruled that a claim about the Secretary of State's powers to amend the law without proper scrutiny "had not retained a respect for factual accuracy".
But the trust found that the show had not knowingly misled the audience and decided that two further claims were not inaccurate.
It also accepted that Thomas had "expressed strong personal opinions", but ruled that views from all sides of the debate had been reflected and "bias on a controversial subject had been avoided".
Responding to the ruling, Sharkey said it was "hugely disappointing" that the statements were broadcast by "such a trusted voice as the BBC".
"Although pleased to have our complaint upheld in part we feel that the Editorial Standards Committee should have gone further," he added.
A BBC statement said: "The programme notes the Trust finding.
"This report was an attempt to interpret highly complex legislation going through Parliament at that time and it is important for us that the Trust deemed the report to be impartial."
Related Internet Links
The BBC is not responsible for the content of external sites.