Charlie Sheen released from hospital in New York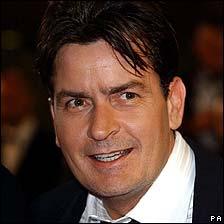 Two and a Half Men star Charlie Sheen has been released from hospital after an "episode" at New York's Plaza Hotel.
The 45-year-old actor is alleged to have caused damage to his room, where police reportedly found him in a state of drunkenness.
But his publicist said he went to hospital after having "an adverse allergic reaction to some medication".
Sheen - who had been visiting his ex-wife and their two daughters - has now returned to Los Angeles, he added.
Beyond the actor's admission to hospital, Stan Rosenfield said, "everything else is speculation".
After hotel security reported Sheen was disorderly, the actor voluntarily went with authorities for a psychiatric evaluation.
"No arrests were made," said police commissioner Raymond Kelly. "It's not a complaint."
Sheen's ex-wife, actress Denise Richards, was staying at the Plaza in a different room with their two children, Sam and Lola.
Sheen and Richards divorced acrimoniously in 2006 after four years of marriage.
In August Sheen pleaded guilty to assault in a domestic violence case involving an altercation with his his third wife, Brooke Mueller .
The Wall Street actor was sentenced to 30 days of drug and alcohol rehabilitation and placed on probation for three months.