Sweden takes cool culture crown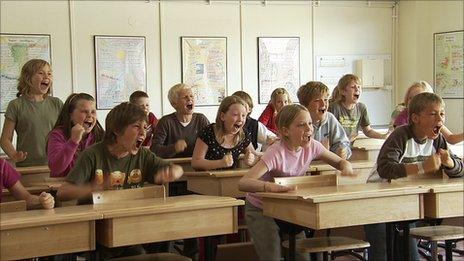 There was a time when it looked like Sweden's biggest contribution to popular world culture was going to be 1970s supergroup Abba. But this week's film release Involuntary is just one in a line of recent Swedish exports grabbing the public's attention.
Journalist Stieg Larsson can be given a lot of the credit for this refreshed interest in all things Swedish. Larsson wrote the Millennium Trilogy which went on to sell millions of books - and overnight the genre "Scandi-Crime" had been unleashed.
The Swedish film adaptations of the Trilogy novels have also enjoyed astonishing worldwide box office success for foreign language films.
The two movies which have been released so far, The Girl With The Dragon Tattoo and The Girl Who played With Fire, have taken around £100m and are in the Top 15 foreign language grossing films to date.
Larsson's success has opened the door to sell other genre novels and movies, including John Ajvide Lindqvist's vampire horror Let the Right One In and Henning Mankell's world-weary detective Wallander, also a successful BBC TV series.
It has also meant Swedish films which may never have found a distributor in the UK are now seeing the light of day, including 35-year-old Ruben Ostlund's film debut Involuntary.
It was Sweden's last entry for an Oscar, and is a cool, sideways glance at social manners which has received rave reviews in its homeland.
"I was interested in group dynamics, and how the individual can be pressured despite themselves to follow the crowd," says Ostlund.
"So I have created different situations where everyone ends up in difficulties, catastrophes sometimes, because they can't speak up."
With the camera often focusing anywhere apart from his characters' eyes - "so the audience can make their own judgement", according to the director - it's definitely not a blockbuster, and Ostlund knows he has to thank the sudden surge in cultural interest in Sweden for its international release.
"It is the way it is, I am glad it is getting seen, but we are definitely not all Stieg Larsson."
That might be a shame for him, as publishers and movie executives admit they would love as many Stieg Larssons as possible.
"It's the Bjorn Bjorg effect," explains Dan Lucas, a correspondent for Swedish daily newspaper Dagens Nyheter.
"For us, it is the same as when he won Wimbledon five times, suddenly there were tennis players all over the country. Now there are crime writers."
At the London Book Fair this summer, agents confirmed they were hunting high and low for the next harbinger of "Scandi Crime", as Larsson - who died in 2004 - is unable to produce any more best-sellers himself. Booksellers Waterstones put up regular displays dedicated to the genre.
"While vampires may have grabbed the headlines of late, Scandinavian crime as a sales trend started earlier and I believe will last longer," says Simon Robertson, the chain's fiction buyer.
"Larsson's sales have been phenomenal, but that shouldn't overshadow the huge following that authors such as Henning Mankell, Jo Nesbo and a new generation of writers have built up."
Jo Nesbo is actually a Norwegian author, but according to Mr Lucas, all the books and films listed here share a common Scandinavian characteristic: the love of unveiling tension beneath a seemingly calm social exterior.
"It started off in the 1960s when two writers, Maj Sowall and Per Wahloo created a very cynical chief inspector, Martin Beck," says Mr Lucas.
"They are the ones who founded this genre because they wrote about a country which was prosperous, but there were tensions behind the feel-good factor, like drug and alcohol abuse. You can see all this repeated with Larsson's novels.
"There is a wealthy family, but a murderer lurks within it. I think this offers a deeper experience than the average crime thriller and explains perhaps why they are so popular now, particularly in the UK, USA and Germany."
This twisted social commentary exists in films like Involuntary, the original Swedish versions of the Millennium Trilogy, and Let the Right One In, certainly not of the general vampire genre.
However, Let the Right One In has been made into a Hollywood movie, starring Kick Ass's Chloe Moretz, re-titled Let Me In.
And The Girl With The Dragon Tattoo will be re-made into a big budget thriller in English starring Daniel Craig.
If they are re-shaped by an English language studio, won't they be in danger of losing the very edginess that seems to have appealed to audiences in the first place?
"It's a frustrating thing that there is still a stigma attached to foreign films but I prefer to see American remakes as the first step in breaking it down," says film critic James King.
"Maybe 95% of the viewers who watch Daniel Craig in the upcoming Hollywood take on Girl With The Dragon Tattoo will never watch the original, but if it sends 5% to the foreign language section of Amazon then that's a good start.
"I agree that remakes often lose some of the magic but the publicity they give the source text should never be sniffed at. It's ultimately good."
So, will this cultural moment run its course sooner rather than later?
"I think it has been like a crow-bar, opening a door," is Mr Lucas's answer. "There's been a flood of input from Sweden and the rest of Scandinavia, some of it successful. Some of it, ultimately, will be flogging a dead horse.
"As for us as a nation, I think we just do not understand it. I was at an event at the Swedish embassy in London last year and half the people, the English, were talking enthusiastically about this subject. The other half, the Swedes, just stood around looking puzzled."
Involuntary opens in UK cinemas on Friday 29 October.
Related Internet Links
The BBC is not responsible for the content of external sites.