Avatar sequels get confirmed release dates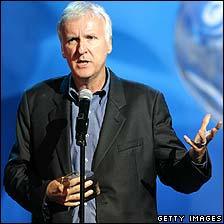 The first sequel to blockbuster hit Avatar will be released in December 2014 with a second to follow 12 months later, 20th Century Fox has announced.
James Cameron will start writing the scripts early next year and said the films will be "self-contained stories that also fulfil a greater story arc".
"We will not back off the throttle of Avatar's visual and emotional horse-power," the director continued.
Avatar has earned $2.77 billion (£1.76 billion) at the global box office.
It holds for the record for the highest-grossing film ever, having exceeded Titanic's international takings of $1.84bn (£1.16bn) in January.
Like the first film, the Avatar sequels will be set on the distant moon of Pandora and will be shot in 3D.
Cameron, 56, has yet to decide whether he will make the films separately or back to back.
In a news release, the Oscar-winning director said the Avatar sequels would "continue to explore its themes and characters, which touched the hearts of audiences in all cultures around the world".
He said he was "looking forward to returning to Pandora, a world where our imaginations can run wild."
Cameron has already revealed his intention to set some of the sequels' action in the moon's oceans.
But when asked last week to elaborate on what else might be in store for audiences, he said plot details were "classified".
Avatar used innovative special effects to follow the fortunes of a paraplegic ex-marine who takes the form of a 10-foot tall, blue-skinned alien.
It is not known whether any of its cast members - among them Sam Worthington and Zoe Saldana - will reprise their roles in the sequels.
20th Century Fox executives Jim Gianopulos and Tom Rothman have expressed their pleasure with the plans to continue the studio's lucrative franchise.
"We had no higher priority, and can feel no greater joy, than enabling Jim to continue and expand his vision of the world of Avatar," they said in a joint statement.