Comedy stars Pegg and Serkis face stiff challenge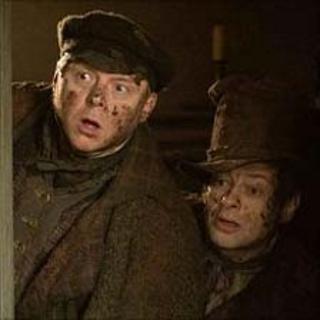 Can the stars of period black comedy Burke and Hare entice audiences to see their film, against the advice of the nation's critics?
New release Burke and Hare has received some tepid reviews from the nation's film critics, one of whom calls it "a disappointment".
"The jokes are obvious, the punchlines are signalled from a great distance and everything falls flat," writes Allan Hunter in the Daily Express.
"Its principal defect is that it just isn't funny," writes Chris Tookey in the Daily Mail review of the film.
"It's a long time since John Landis has directed anything that isn't an out-and-out misfire, and this doesn't end the run," opines Tim Robey in the Daily Telegraph, referring to its acclaimed American director.
Speaking earlier this week, however, stars Simon Pegg and Andy Serkis were upbeat about the experience of recreating the ghoulish exploits of its titular grave-robbers.
They were also keen to paint William Burke and William Hare - a pair of 19th-Century Irish labourers who murdered people to provide human specimens for Edinburgh's medical colleges - as both sinned against and sinning.
"We never say the decisions they make are correct," says Pegg, familiar to audiences on both sides of the Atlantic thanks to his roles in Shaun of the Dead and Star Trek.
"Yet, by making them likeable you realise the conspiracy was much greater, much wider and involved an upper-class structure of exploitation.
'Puppets'
"History talks of Burke and Hare as if they were the masterminds when they were just puppets in a grander conspiracy," the 40-year-old continues.
"The medical profession was as equally guilty as they were in a way, for receiving the bodies they delivered."
Filmed at Ealing Studios in west London, the film portrays the real-life serial killers as bumbling rascals whose best-laid plans often come to nought.
The violence, meanwhile, is depicted in a humorous fashion that - according to Pegg, harks back to such Ealing classics as The Ladykillers and Kind Hearts and Coronets.
"John Landis would be the first person to say it's very much in that tradition," nods the actor, who says it was "something else" to work with the veteran director of The Blues Brothers and An American Werewolf in London.
"Ealing is so steeped in history. We shot Shaun of the Dead at Ealing and [TV show] Spaced as well, so it was lovely to be back in that building."
"It's wonderful to reinvigorate that style of storytelling," agrees Serkis, who came on board shortly before filming started after original star David Tennant was forced to withdraw.
"There is slapstick in it, and satire. The humour works in lots of different ways."
The Independent's Anthony Quinn begs to differ, claiming "the film-makers haven't a clue how to make it work as comedy".
Tookey of the Daily Mail, meanwhile, says "there is something unpleasant about trivialising the murder of innocent people."
Serkis, however, attempted to find some positive characteristics in the opportunistic Hare - a man, he says, with "a great grasp of capitalist principles".
Motion capture
"William Hare is a man who's just trying to make ends meet," says the 46-year-old, recently seen playing punk icon Ian Dury in the British biopic Sex and Drugs and Rock and Roll.
"Take away the moral implications and it was something they could do to literally make a killing.
"Because Hare couldn't distinguish between the morality and immorality of their actions, it wasn't a problem for him," the actor tells the BBC News website.
"He just saw it as giving people to God a little sooner than they perhaps would have been."
Both Pegg and Serkis worked with Steven Spielberg on his upcoming Tintin film, which uses 'motion capture' technology to morph them into Herge's cartoon characters.
Serkis has also worked on Planet of the Apes prequel Rise of the Apes, while Pegg has further instalments in the Star Trek and Mission: Impossible series pending.
As far as the latter is concerned, though, it was a pleasure to work on something closer to home, in more ways than one.
"It was nice to have your cake and eat it," says the actor, who will shortly be heard in the third Chronicles of Narnia film as the voice of a mouse.
"I got to work with a renowned American director and still get to go home to my house at the end of the day."
Not every critic has lambasted the film ahead of the movie's opening weekend.
Kim Newman of Empire magazine called it "generally entertaining [and] ingenious... even if it whitewashes the truly despicable title duo."
Burke and Hare is now on general release.