Mission: Impossible 4 gets ghostly title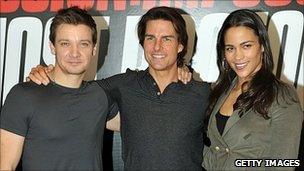 The fourth Mission: Impossible film, which sees Tom Cruise return as secret agent Ethan Hunt, will now be called Ghost Protocol, it has been announced.
"I've never done sequels to films and I never thought of these films as sequels," the actor said.
"I always felt it should have a title," he told reporters in Dubai.
British actor Simon Pegg, Oscar nominee Jeremy Renner and Lost's Josh Holloway co-star in the film, to be released on 16 December 2011.
The production has moved to Dubai to film at the world's tallest building, the 828m (2,716ft) Burj Khalifa.
"'I'll be spending many days, many hours on the side of this building," Cruise told the Associated Press.
"I can't give you details, but I will be up there."
Brad Bird, the Oscar-winning maker of animated adventure The Incredibles, will direct the film.
The Mission: Impossible series has earned nearly $1.5bn (£938m) at the worldwide box office.