The Sound of Music cast reunite on Oprah Winfrey show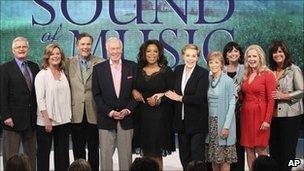 The cast of The Sound of Music have reunited for the first time in 45 years on Oprah Winfrey's US chat show.
Dame Julie Andrews and Christopher Plummer - Maria and Captain Von Trapp in the classic musical film - were joined by the actors who played his seven on-screen children.
The story of a singing Austrian family trying to escape the Nazis prior to World War II won five Oscars in 1966.
Plummer jokingly referred to the film as "The Sound of Mucus" on the show.
He revealed the nickname for the film came about "because there needed to be a cynic of some kind around to stop it from getting too saccharine."
While other cast members have reunited in the past, Plummer had previously distanced himself from his most famous role.
Actress Charmain Carr, who played Plummer's eldest daughter Liesl, revealed she had been captivated by the Canadian actor during nine months spent filming in Austria.
"I had a huge crush on him," the actress told Winfrey. "He was so perfect, and he spoke with this perfect British accent."
Dame Julie Andrews said the cast had no idea the film would be so successful when it was first released.
"It made my career," added the 75-year-old. "It was that big of a movie."
The episode also featured performances of Edelweiss and other songs from the movie, sung by some of the real great-grandchildren of the Von Trapp family.
Related Internet Links
The BBC is not responsible for the content of external sites.