Sir Elton John admits defeat in pop charts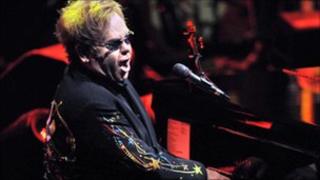 Sir Elton John has admitted he is no longer able to write songs to compete with young pop stars in the charts.
The singer has scored almost 70 UK top 40 singles during his career. But he has not had a new song in the charts for five years.
"Look, I'm 63, I don't want to be on VH1 or MTV," he said. "I'm not going to compete with JLS or Lady Gaga.
"I'm at that stage where I don't think I can write pop music any more. I can't sit down and do a proper rock song."
Speaking to GQ magazine, he continued: "It was OK when I was 25 or 26, but not any more.
"I like to do my little side projects like Scissor Sisters and have fun, but I don't think Elton John will be putting any pop singles out."
Sir Elton holds the record for the world's best-selling single - a version of Candle in the Wind that sold more than 33 million copies when it was released in tribute to Princess Diana in 1997.
His latest album The Union, a selection of duets with US country rock legend Leon Russell, entered the UK chart at number 12 on Sunday.