Director Danny Boyle on his rock solid grounding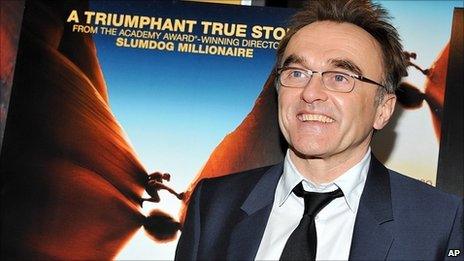 Last year saw rags to riches fable Slumdog Millionaire win prize after prize, including eight Academy Awards.
But its helmsman Danny Boyle, named best director at the 2009 Oscars, seems unaffected by his Hollywood success.
The British film-maker, whose other movies include 28 Days Later and Trainspotting, says living in the UK keeps him grounded.
"There's nothing wrong with Hollywood," he explains. "If you want to be a big-time director, then you should go.
"But I've been very fortunate to be able to stay here," says the man who has been invited to direct the opening ceremony for the London 2012 Olympic Games.
The 54-year-old still goes to the supermarket to get the weekly shopping and has an unwashed car he describes as "very, very dirty".
But the Lancashire-born film-maker has a valid excuse for this vehicle neglect, having been busy promoting his latest movie 127 Hours.
The film tells the real-life survival story of Aron Ralston, an experienced rock climber who, in 2003, became trapped in a canyon for five days.
His eventual escape required a superhuman feat guaranteed to turn the strongest of stomachs.
Boyle and his crew spent six long days filming in the isolated mountain ranges of Utah.
The project was ambitious, he says, because Ralston - played by James Franco - is the only character in 90% of the movie.
With the use of feverish fantasy scenes and claustrophobic camera shots, the film builds to a harrowing climax.
"Although it looked unwatchable, it was actually the reverse," says Boyle. "It is an incredibly compelling story."
And Boyle says some scenes gripped even him with tension: "I was outside the canyon watching on a monitor, but you sort of believe what you see and you start to feel anxious."
During Ralston's entrapment, he attempted all sorts of ways to move a rock that was pinning down his arm.
At one point he tried to set up a pulley system - something Boyle made Franco do for real when recreating the scene.
Following Slumdog Millionaire, the director says he found himself inundated with offers of work.
Yet he was determined not to react to Slumdog's success, which would have been "foolish", he adds.
Having already decided in 2006 to bring Ralston's story to the big screen, Boyle decided to use the "power" Slumdog gave him to finance the project.
It helped, of course, to have Ralston on board, the climber having previously refused to let his story be dramatised.
The explorer had been keen to make a documentary, in which he appeared as himself. Yet Boyle was adamant this would not have worked.
"I told Aron that if we employed him as the 'actor', it would be terrible. No one would have believed it.
"My point was we would achieve so much more with a proper actor.
"In order for people to witness what he went through, you've got to make them feel they're in the canyon and they'll do anything to get out of there with him."
After Ralston saw the movie, he realised Boyle had made the correct decision, the climber told the BBC World Service.
"He was right, it was a much more powerful and inspiring film for people to see and experience," he said.
Ralston liked the finished film, admitting he was in tears throughout, but only after one change was made.
Ralston recalled a black raven that flew over his head on a daily basis, which subsequently revisited him in the form of a frightening hallucination.
Boyle originally brought this scene to life by placing a six-foot raven besides Franco's face.
However, this was later changed to the cartoon character Scooby-Doo, at Ralston's request.
"Despite it being true, he didn't want that raven portrayed like that because it was the only living thing he had a relationship with," explains Boyle.
"He was very clear, and we came up with a much better idea in the end."
127 Hours is released on 5 January.
Related Internet Links
The BBC is not responsible for the content of external sites.