Beatles on iTunes: The Long and Winding Road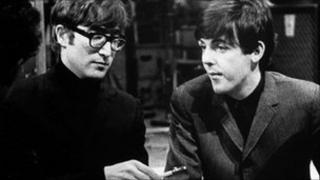 The addition of Beatles music on iTunes follows 30 years of legal wrangling between the two Apples - the band's record label and the owner of the online music store.
The dispute dates back to 1980, when the late George Harrison saw a magazine advert for Apple Computers, launched in the US four years earlier by Steve Jobs, Steve Wozniak, and Ronald Wayne.
He felt there was potential for trademark conflict with Apple Corps - set up by the band in London in 1968 to release their songs and manage their creative affairs.
A deal was struck in 1981 allowing Apple Computers to keep their name as long as they stuck to the computer business, leaving The Beatles to concentrate on all matters musical.
The two sides ended up at loggerheads with each other in 1989 when Beatles representatives objected to the music-making capabilities of Apple machines.
Two years later, a less restrictive agreement was reached accompanied by a reported $30m (£16.3m) payment to Apple Corps from the computer firm.
Technological advance
The 1991 deal gave Apple Corps exclusive rights to use the apple trademark for the record business.
But the advance of technology and advent of music downloading meant these two giants came into conflict 14 years later.
In September 2003, Apple Corps - owned by Sir Paul McCartney, Ringo Starr, and the widows of John Lennon and George Harrison - again began High Court legal proceedings.
It said the five-month-old iTunes - which at that time was available only in the US for Mac computer users - was in breach of the 1991 agreement.
At that time, iTunes had 200,000 songs available for sale after striking deals with a number of record labels.
Apple Corps said in a statement at the time: "The agreement was concerned with the future use of the name Apple and use of the companies' respective well-known logos of apples.
"Specifically, complaint is made over the use by Apple Computers of the word apple and apple logos in conjunction with its new application for downloading pre-recorded music from the internet."
Apple Computers, meanwhile, said the firms had "differing interpretations of this agreement and will need to ask a court to resolve this dispute".
A month later, Beatles publisher EMI said the band - who were one of the last big-name artists to put their music onto compact discs - had made a decision not to sell their music with any online retailers.
A spokesman for Apple Corps said he did not think there was "any reason for it at all" and that the band "doing very well as it is".
'Electronic shop'
Apple Corps lost the iTunes court battle that followed in May 2006 when Mr Justice Anthony Mann ruled that the computer company used the Apple logo in association with its store, not the music, and so was not in breach.
He said iTunes was "a form of electronic shop" and the presence of the Apple Computer logo on the service did not suggest "a relevant connection with the creative work".
Meanwhile, the music of The Beatles remained conspicuous by its absence on other online stores.
Some analysts say this could be because Apple Corps was trying to negotiate a better deal than other artists.
When a truce was announced a year later - giving Apple Inc full control of the Apple brand but with certain trademarks licensed back to Apple Corps for continued use - pundits optimistically said it was only a matter of time before Beatles songs were available digitally.
But nothing in this saga has ever run that smoothly.
In 2008, Sir Paul McCartney said he wanted The Beatles' catalogue to appear on iTunes store but that negotiations had "stalled".
"We'd like to do it," Sir Paul told BBC News. "We are very for it, we've been pushing it. But there are a couple of sticking points, I understand."
He added: "EMI want something we're not prepared to give 'em. It's between EMI and The Beatles I think - what else is new?"
Tuesday's long-overdue addition of Beatles music onto iTunes could have an unusual effect on Sunday's singles chart.
Bookmakers William Hill have made Hey Jude their 6/1 favourite to be the next Beatles number one.
But Martin Talbot from the Official Charts Company is not convinced the Fab Four will dominate.
"It's incredibly difficult to say, " he told BBC 6 Music.
"At the moment the singles market is very strong so I think for any individual track to have a big impact on the top 10 it would have to do very well indeed, and the reality is that a lot of the impact will be across the entire Beatles catalogue."