Victoria Wood tells all about Eric and Ernie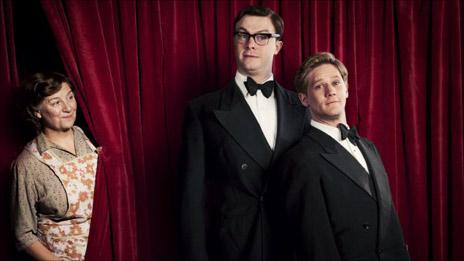 Victoria Wood insists her latest TV venture, which delves into the early career of Morecambe and Wise, "will not be one of those dark dramas".
Far from being doom-laden, the show is a "celebration of their friendship", revealing how they met as teenagers and were steered to stardom by Eric Morecambe's canny mother Sadie.
"They were affectionate, it was like a very good marriage," she says of the men's relationship.
Comedienne and writer Wood, who plays Sadie, came up with the idea for the drama seven years ago.
But she is at pains to stress it is nothing like BBC Four's Curse of Comedy series, which revealed the mental torture of performers including Kenneth Williams and Tony Hancock.
"What we really find out is the immense lengths Morecambe and Wise went to to become the stars they did," she says.
"They were two very different child performers, but Sadie spotted something in the two of them that would make something special when she put them together."
The youngsters met in 1939 on the variety theatre circuit, where Ernie Wise was a child star who topped the bill, while Morecambe was at the bottom.
"Eric's act was as a 'daftie', wearing long shorts and a beret, holding a big lollipop, and singing a song called I'm Not All There," Wood explains.
But their pairing eventually led to an enormously successful TV series, The Morecambe and Wise Show, which featured sketches, song and dance and a skit with a celebrity guest leading it to peak at a huge 28 million viewers during the 1970s.
"Eric's wife Joan told me you always heard them laughing in the dressing room. Even by the end they were still laughing," Wood says of the comics, who performed together until Morecambe's death in 1984.
But the drama focuses on what happened before they hit the big time, depicting how a reluctant Morecambe was paired with a driven Wise.
Their early career included several ups and downs, including a disastrous TV series in 1954 which nearly caused their professional demise.
Wood is obviously fascinated by the chemistry between the two. Despite her prolific writing career, though, she declined to write the script.
She thought the story was "better told by a man, because it was about men's friendship and really it's about two boys".
The script was written by Blackpool and Desperate Romantics writer Peter Bowker. Wood says this was where much of her inspiration for Sadie came from.
She also researched her role by talking to Morecambe and Wise's wives Joan and Doreen about what Sadie was like.
"She definitely wasn't a showbiz mum," says Wood. "She was a very intelligent person who realised Eric would never be happy in an ordinary job.
"She saw there was something in him that would only be fulfilled by going on the stage."
What emerges from the drama, along with a portrayal of how funny the duo found each other, was that "Eric always had someone in charge of him".
"It was his mother, then Ernie, then his wife - he was like a big kid at times," Wood says.
"Ernie structured it all, he was very bright. He always looked for residuals in the contracts."
In order to depict their early lives, the drama has three sets of actors, from young boys through to young men.
The two-month audition process in Manchester and Leeds saw 150 boys trying out for the parts.
"We wanted raw diamonds," Wood says. "We got lots of nice little Ernies [but] it was harder to get the Eric quality."
The two adult versions of Morecambe and Wise are played with stunning attention to detail by Daniel Rigby and Bryan Dick respectively.
They admits it was intimidating playing such comedic giants.
Rigby, 27, has done stand-up at the Edinburgh Festival as well as acting so is no stranger to a challenge. He says he was well aware of how well-loved Morecambe and Wise are.
"I have huge respect for Morecambe and Wise, bound up in all the respect and nostalgia many people have for them," he says.
"It was daunting playing them, but it was a brilliant cast and the crew did a great job with hair, make-up, contact lenses."
Trained dancer Bryan Dick, 32, has appeared in Russell Crowe film Master and Commander and BBC series Bleak House.
He says that once he and Rigby were on set doing some of the famous early routines, it was "great, challenging fun".
Morecambe's father George is played in the drama by an understated Jim Moir, also known as Vic Reeves - the comic half of another famous duo, Reeves and Mortimer.
He says he would have been keen to play Morecambe had he been younger, but was drawn to the role of George "just because I liked the story".
He describes George as being "just that ambivalent working-class bloke. He was just doing his job as a navvy and kept his head down".
Moir adds that "George was more like Eric's mate - he just wanted whatever made him happy".
He is also able to shed some light on how a successful comedy double act works, confirming what Wood says about the importance of the men's friendship.
"You need some strengths, the psychicness you get after working with someone for a long time," he says.
"You need to know if you stray off a track onto something else, that they're thinking the same thing.
"If you didn't get on, it wouldn't work. You've got to be best friends to do it.
"If you look at all double acts we're all pretty much the same - one's slightly stupider than the other stupid one."
He adds that Morecambe and Wise's appeal was simple. "I suppose it's because you like them, that's it really.
"You could then go into the whole analysis of comedy, two bungling fools, but really it's just because you like them."
Eric & Ernie is broadcast at 2100 GMT on BBC Two on 1 January 2011.