John Travolta and Kelly Preston have baby boy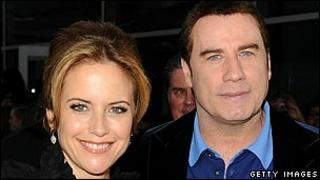 Actor John Travolta and his wife Kelly Preston have had a baby boy named Benjamin, almost two years on from the death of their teenage son Jett.
The baby, who weighed 8lb 3oz (3.7 kg), was born on Tuesday at an undisclosed hospital in Florida, the couple's publicist confirmed.
The Travolta family, she continued, was "ecstatic and very happy about the newest member of the family."
The couple, who married in 1991, have a 10-year-old daughter named Ella.
Mother and baby are "healthy and doing beautifully," said spokeswoman Samantha Mast.
Jett Travolta died in January 2009 from a seizure during a family holiday in the Bahamas.
The 16-year-old suffered from Kawasaki disease, a condition which causes inflammation of the blood vessels in young children.
In September this year the Pulp Fiction star, 56, requested charges be dropped against two people accused of trying to extort money from him following his son's death.
His family suffered additional heartbreak in May when two of his dogs were killed in an accident at an airport in Maine.
Actress Preston, 48, was seen earlier this year alongside US singer Miley Cyrus in The Last Song.
Ella Bleu Travolta has also appeared on screen, playing Robin Williams' daughter in her father's 2009 film Old Dogs.