Coronation Street star's husband punched picture-seeker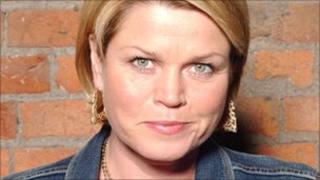 The husband of Coronation Street actress Vicky Entwistle, who plays Janice Battersby, has been found guilty of attacking a fan seeking a picture.
Andrew Chapman, 48, lost his temper and punched Michael McWhirter in the face on a train, Salford magistrates heard.
The 23-year-old was knocked unconscious by Chapman, a black belt in karate, who had denied common assault.
Ms Entwistle said she was intimidated by the approach, which had sparked her decision to quit the soap.
The victim told the court that he had asked: "By any chance please can I have a photo of you because my mum really likes your programme?"
'Unwanted attention'
The defendant, represented by lawyer Nick Freeman, had claimed Mr McWhirter looked "menacing" and had lurched at his wife while they travelled home on a train from Manchester after a beer festival on 12 April.
Mr Freeman suggested the victim was verbally aggressive and his client had acted in self- defence - but district judge Jonathan Finestein convicted him.
Ms Entwistle, of Clitheroe, Lancashire, told the court it was the first time she had used public transport for 13 years because of unwanted attention from people who recognised her from the programme.
After the incident she decided to leave the programme to get "normality and privacy". It was announced in August she was leaving the soap.
The 41-year-old told the court she felt "intimidated and vulnerable" when Mr McWhirter was "encroaching" on her with a mobile phone.
"I really did feel very frightened indeed," she added.
Her husband jumped out of his seat and punched the victim in the face, the court heard.
Pc Mark Haviland, from British Transport Police, told the court he had been called to the platform when the train pulled into Salford Crescent train station and had cautioned, arrested and handcuffed Chapman on suspicion of assault.
Chapman, who is paid £200 a week to look after the couple's home, was convicted of common assault and fined £1,250, ordered to pay his victim the same amount, along with prosecution costs of £1,309 and a £15 victim surcharge.
Judge Finestein, sentencing, said: "You have been convicted of an unpleasant attack on this person. This young man was simply trying to take a photo.
"You became far more protective of your wife than you needed to be and lost your temper."