Sheila Hancock to receive lifetime achievement award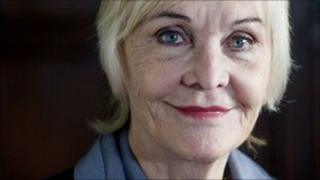 Actress Sheila Hancock is to be given a lifetime achievement award at this year's Women in Film and Television (WFTV) awards.
The 77-year-old will be given the prize in recognition for her "outstanding and lasting contribution" to the industry.
Hancock will be presented with the award at a London ceremony hosted by Julie Walters on 3 December.
Previous recipients include Walters, Cilla Black, Dame Judi Dench and Katherine Hepburn.
"I am amazed and delighted that WFTV should pay me this enormous compliment," Hancock said.
"I am so grateful to all these women, in front of and behind the camera, that have given me such joy in my 60 years in the business.
"I feel I should now retire gracefully but I can't bear to leave them all," she added.
Hancock got her first big television break playing Carol in the BBC sitcom The Rag Trade in the early 1960s.
As well as her stage career, she went on to appear on shows including Now Take My Wife, Bleak House, New Tricks and last year's BBC daytime series, Moving On.
She also featured as a judge earlier this year on the BBC's search for Dorothy in Andrew Lloyd Webber's The Wizard of Oz on Over The Rainbow.
She most recently played Mother Superior in Sister Act at the London Palladium.