A Serbian Film is 'most cut' movie in 16 years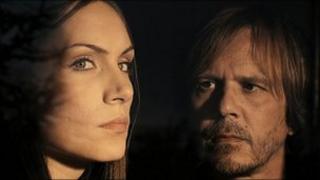 Controversial movie A Serbian Film has become the most cut film in 16 years, the British Board of Film Classification (BBFC) has said.
The dark thriller, which features disturbing scenes of violence and sex, has had four minutes and 11 seconds of its original content removed.
The BBFC said that it "rarely cuts" cinema releases with an 18 certificate.
In 1994 the Indian movie Nammavar was cut by five minutes and eight seconds for violent content.
A BBFC spokeswoman said: "A number of cuts were required to remove elements of sexual violence that tend to eroticise or endorse sexual violence."
'Immensely indecent'
The film is scheduled for UK release on the 10 December, although distributors Revolver Entertainment said it does not yet know how many cinemas it will be shown in.
A spokesman from the company said: "Revolver remain committed to releasing the closest possible version of the film to the director's original cut.
"The company recognises that the film is an uncompromising, artistic and political statement from a unique film-making vision and remains fully supportive to the director.
"Revolver believes this is a film that deserves to be seen by both a theatrical and home entertainment UK audience," he added.
The movie was written by Serbian horror film critic Aleksandar Radivojevic and directed by Srdjan Spasojevic.
Radivojevic has defended the movie, calling it an "a diary of our molestation by the Serbian government".
He said it was designed to show the "monolithic power of leaders who hypnotise you to do things you don't want to do".
Variety called the film a "well-crafted, immensely indecent smut-slasher", while The Sun newspaper labelled it "sick".
Film critic Scott Weinberg wrote: "I think the film is tragic, sickening, disturbing, twisted, absurd, infuriated, and actually quite intelligent.
"I admire and detest it at the same time. And I will never watch it again. Ever."
In August Westminster Council refused to allow the movie to be shown during the annual Frightfest film festival.
Earlier this month trade magazine Variety reported that Spain had banned public screenings of the film at the Terror Film Week in San Sebastian.
A temporary injunction also prompted the Molins de Rei and Malaga film festival to cancel screenings.