How the Snowman found his song
By Tim Masters
Entertainment correspondent, BBC News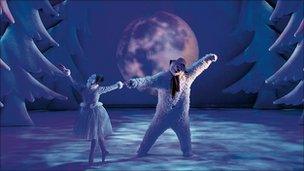 In a triple-glazed apartment, a snowball's throw from the hustle and bustle of Kensington, composer Howard Blake relishes the sound of silence.
Here he finds the solitude he needs to write musical scores like The Snowman, which includes Walking In The Air - one of the best-known Christmas anthems of modern times.
"My whole life has been music," says Blake, casting an eye over the grand piano that sits in the corner of the room. "The downside of writing something as iconic as The Snowman is that people tend to think you've never done anything else."
The Snowman, the short animated film based on the children's book by Raymond Briggs, has been a seasonal fixture on TV since it first aired on Channel 4 in 1982. It has no dialogue, except for the lyrics of Walking In The Air.
"I'd always had a theory that you could make a film with no dialogue, make the music the dialogue," says Blake.
He describes the circumstances around getting The Snowman job as "synchronicity".
Blake happened to be in the right pace at the right time - in this case a cartoon office in London's Charlotte Street - near the headquarters of the newly-launched Channel 4.
Having been shown some footage, Blake realised he already had an unused song idea from years back that would fit. He made a demo and it was commissioned.
Blake was actually working on another film at the time: Tony Scott's erotic vampire tale, The Hunger, starring Catherine Deneuve, Susan Sarandon and David Bowie.
"It was unusual in that I was finding classical music to re-record," recalls Blake. "I found big chunks of Bach and Schubert, and the opera Lakme by Delibes.
"Right in the middle of The Hunger I got the call that they'd got the money for The Snowman: 'Can you start immediately?'
"So I was writing a horror film during the day and The Snowman during the evening - two things more different you can't imagine."
He pauses, and then adds with a laugh: "I've never told anybody that!"
Blake learned the craft of writing music to animation from his work on TV commercials in the 1960s and 70s. He was a regular collaborator with Ridley Scott - the future director of Alien, Blade Runner, Gladiator and Robin Hood.
"We did an advert for SR toothpaste," he recalls. "When Ridley came to do The Duellists - his first feature film which is a masterpiece - he asked if I would write the score. That's how one thing can lead to another."
Blake studied piano and composition for three years, after receiving a scholarship to the Royal Academy in London. But he admits he was "crazy about film" while a student.
It led to a job as an assistant projectionist at the National Film Theatre, which Blake saw advertised in the Evening Standard.
"I thought - I've got to do this, I'll be up to my neck in great films. I got the job and I did it for about two-and-a-half years.
"I saw Citizen Kane 25 times - famous directors would come and give lectures. Fritz Lang came there, and Jean Renoir - and very often we'd make them tea up in the projectionist's box."
Afterwards, Blake had a successful stint as a session musician, working with artists including Cliff Richard, Tom Jones, Shirley Bassey and Cilla Black. In the mid-60s, Blake progressed to playing for film and TV. He names Quincy Jones and Henry Mancini among his mentors.
Blake's other film scores include Flash Gordon (1980), Amityville 3D (1983), A Month in the Country (1987) and My Life So Far (1999).
He estimates he has written some 650 works, including pieces for orchestra, ballet and opera. In 1994 he received an OBE for services to music.
But it is The Snowman that has been Blake's biggest success - one that he has been asked to revisit over the years.
"The Snowman I didn't see originally as being a big job," admits Blake. "It's a very sparse score and there's a lot of space in it. Almost every piece of music expresses some emotion or movement.
"It proved to be a very fertile ground to develop. You could take any one of of the motifs and develop them into something symphonic. It really has evolved."
The Snowman's evolution includes a full-length ballet, which has become an annual Christmas season for Sadler's Wells at London's Peacock Theatre.
But does Blake - with his vast body of other work - see The Snowman as some kind of albatross?
"It is an albatross in some ways. People have heard of The Snowman much more quickly than they've heard of Howard Blake. That is an odd situation.
"But it hasn't stopped my writing in many other genres. In a way it's financed my ability to write other music. I would like more recognition for things like my piano concerto or choral works - but they are happening.
"I just like writing music. I do my best with them. It's a delight when something works. You can can complain about being a failure, but I don't think I'm in a position to complain about being successful."
The DVD of the stage show recorded at the Birmingham Rep last year is out now.
Related Internet Links
The BBC is not responsible for the content of external sites.