Johnny Depp: 'Disney hated Jack Sparrow'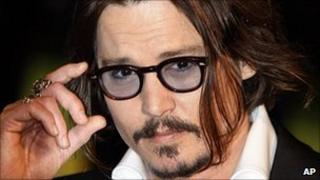 Actor Johnny Depp has said that his portrayal of Captain Jack Sparrow in Pirates Of The Caribbean was not liked by Disney bosses.
In an interview with Vanity Fair, the actor said former chief executive Michael Eisner "couldn't stand" the way he interpreted the role.
Depp went on to earn an Oscar nomination for his performance.
A Disney spokesman said the company "could not be happier" with his work.
"The entire team at Disney could not be happier with Johnny Depp's performances in the Pirates trilogy which is why we are so excited to be bringing back a fourth instalment to audiences next summer," he added.
"I think it was Michael Eisner, the head of Disney at the time, who was quoted as saying, 'he's ruining the movie'," Depp said.
The actor also revealed that Mr Eisner had questioned whether he was "some kind of simpleton" or even drunk when acting in the movie.
Depp famously based the character on the Rolling Stones guitarist Keith Richards, who appeared in At World's End, the third film in the series, following Dead Man's Chest, which also starred Keira Knightley and Orlando Bloom.
Depp is currently filming a fourth instalment - On Stranger Tides - which is due out next year.