Stars stay silent in X Factor protest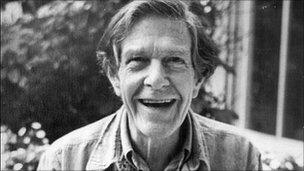 An anti-X Factor "supergroup" has recorded its entry in the race for this year's Christmas number one - the sound of silence.
Madness star Suggs and dance acts Orbital and Pendulum were among those who did nothing in a recording studio.
They were recreating composer John Cage's experimental work 4'33" - the sound of musicians not playing.
They hope to emulate Rage Against the Machine, who beat X Factor winner Joe McElderry to number one last year.
Dozens of musicians were present and the campaign - dubbed Cage Against the Machine - currently has 62,000 Facebook fans.
Guillemots frontman Fyfe Dangerfield, Unkle's James Lavelle, Scroobius Pip and Dan Le Sac also took part in the unconventional session.
They were joined by members of The Kooks and Heaven 17 at Dean Street Studios in London.
Paul Epworth, who won the Brit Award for best producer this year, was at the controls to record the four-minute, 33-second "performance".
Xfm DJ Eddy Temple-Morris, who helped organise the event, said: "You could hear the odd click of a camera shutter or a creak.
"There were people who were seriously into it, like Matty from The Infadels, who had his guitar and was poised to do a massive power chord, but it just never happened.
"There were people swaying, or putting their lighters up in the air, or headbanging and pretending that they could hear some music and really getting into it.
"It was an emotional, unusual, quite beautiful thing to have so many people in a room and be silent."
Pete Doherty was among those previously named on the line-up who did not turn up.
According to Mr Temple-Morris, Billy Bragg participated on speaker phone from his tour bus while singer-songwriter Imogen Heap recorded her part earlier in the day.
The single will raise money for five charities, including Calm, a service for young men at risk of suicide, and the British Tinnitus Association.
Youth Music, Nordoff Robbins music therapy and Sound & Music, a charity promoting challenging new music and sound art, will also benefit from the proceeds.
The song is 5/1 to be Christmas number one, according to bookmaker William Hill.
But it is still a relative outsider compared with the eventual X Factor winner, who is 4/7 favourite.
Temple-Morris said 4'33" was chosen because it was the "most avant garde piece of music ever made".
He said he objected to The X Factor because he believes it humiliates contestants who do not make the grade.
"It's really cruel, I think, taking people and giving them false hope," he said.
The show, he continued, was guilty of "putting them on that stage and basically laughing at them like the village idiot in medieval times".
Cage Against the Machine follows the success of another silent "song" that recently made the charts.
The Royal British Legion's 2 Minute Silence, released in the form of a silent video featuring Prime Minister David Cameron, actor David Tennant and Radiohead singer Thom Yorke, reached number 20 in November.
Related Internet Links
The BBC is not responsible for the content of external sites.