Car accident halts live German TV show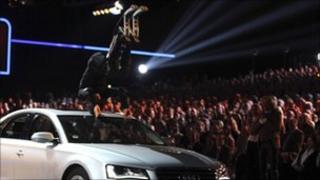 A live TV game show in Dusseldorf, Germany was halted on Saturday mid-broadcast after a contestant was severely injured in a stunt.
Samuel Koch was hurt when he tried to jump over a moving car driven by his father on Wetten, Dass? (Wanna Bet?).
Canadian singer Justin Bieber was due to appear on the show after the stunt.
"Please pray for Samuel Koch and his family as we wait and hope for his health and safety," he told his followers on Twitter.
Robbie Williams and Phil Collins had also been due to appear on the show, according to its website.
'Critical stage'
Koch, 23, underwent surgery on Sunday after he suffered multiple back injuries and fractures the previous night.
Dr Wolfgang Raab of Dusseldorf Hospital told German news agency DPAD that Koch was "in an extremely critical stage".
Bieber, 16, added on Twitter that he was sorry he could not perform in Germany but "some things are more important than putting on a show."
Wetten, Dass? has been running for nearly 30 years and regularly draws audiences of about 10 million.