Why Coronation Street is an enduring TV hit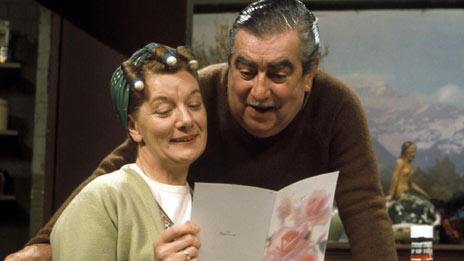 Never have the cobbled pavements of Coronation Street seen so much drama after Monday's double bill, which included a murder, an explosion and a tram crash.
Scriptwriters promised tense and gripping storylines to commemorate the ITV show's 50th anniversary and they have not disappointed.
Nearly 13 million viewers tuned in to see half the street go up in flames and the fate of several characters hang in the balance.
The dramatic scenes have been planned for months and tributes have been coming in fast for the world's longest-running soap opera.
The Radio Times called it "the single most significant achievement in British television history".
The Guardian described it as "the greatest TV show on the planet" and Doctor Who writer Russell T Davies said it was "the best writing school in the world".
For the programme's makers, this must come as a refreshing change because, for much of the past 50 years, the show has been widely sneered at.
After the first episode in 1960, the Daily Mirror's Ken Irwin famously predicted: "The programme is doomed from the outset - with its signature tune and grim scene of a row of terraced houses and smoking chimneys."
He wasn't alone in talking it down.
Over the years, Corrie has been accused of showing a "kitchen-sink" view of the world, an "outdated and cosy" image of working class life with too few ethnic minority characters.
Its few public champions were regarded as slightly eccentric.
They included the poet laureate John Betjeman, who compared the series to The Pickwick Papers.
And TV presenter Russell Harty once said: "There was life before Coronation Street, but it didn't add up to much."
Many of those who ran television - including patrician figures at the Independent Broadcasting Authority and the Broadcasting Standard Council - regarded Coronation Street as ratings fodder for the masses rather than "quality" drama.
It was decades before soaps were considered for Baftas or other awards.
Former Cabinet minister Lord Hattersley, an unashamed fan, was one of the first to challenge this view.
"Coronation Street is a national institution which has won its way into the hearts of 18 million people," he wrote.
"In the North, 'quality' is an adjective of unqualified praise. Coronation Street is a quality programme."
And the early episodes of Corrie were truly ground-breaking.
They brought into the nation's living rooms the gritty, working class themes which John Osborne had put on the stage in Look Back In Anger and Alan Sillito on the page in Saturday Night & Sunday Morning.
Coronation Street creator Tony Warren recalls that in the very early episodes "no-one had a telephone, no-one went on foreign holidays, no-one had a car."
What they did have was strong female characters ruling the roost.
Before the rise of "women's lib", Ena Sharples, Elsie Tanner and Annie Walker demonstrated a more traditional form of feminism, paving the way for Hilda Ogden, Bet Lynch and a half-century of sharp-tongued, assertive women.
Warren's Coronation Street - though less celebrated by the critics than Osborne's and Sillito's works - was more influential because of the size of its audience.
Unlike the novel and the stage play, the new medium of television brought ordinary people's stories - and regional accents - to millions of people all over the country.
For viewers, it became a twice-weekly appointment to view, a habit that was hard to break.
From 1961 to 1989 - more than half its lifetime - Coronation Street went out at 1930 GMT every Monday and Wednesday, often attracting audiences of 20 million or more.
Such huge viewing figures, week after week, brought ITV the advertising revenue and financial stability that underwrote its less popular "quality" programmes.
The current affairs series World In Action, which followed Coronation Street, was one beneficiary.
Without the security of Corrie, it is unlikely that Granada could have afforded its more ambitious and award-winning dramas such as Brideshead Revisited and Jewel in the Crown.
Like all long-running shows, Corrie has had its ups and downs.
In the 70s, ratings fell to a low of 8m and in the early 1980s there was speculation that it could come to an end, as a clutch of its original stars retired.
Rival soaps EastEnders and Brookside had also began to challenge Corrie in the ratings battle.
But it hit back with more dramatic storylines, new sets and production techniques and got back into its stride.
Nowadays, partly buoyed by an increased budget and publicity for its anniversary year, it's flourishing - and that's crucial for the future of ITV.
The X Factor, I'm A Celebrity and Downton Abbey have all won very large audiences this year, but Corrie pulls millions of viewers (and millions of pounds in advertising) all the year round.
It's not just advertising money which makes Coronation Street vital for ITV's financial health.
The show is also sold to more than 40 countries and that income - plus money from merchandising and digital opportunities - comes direct to the broadcaster, because the series is made by ITV Studios.
Other hit ITV shows, such as Simon Cowell's The X Factor, are made by independent companies and are far less profitable for ITV.
While other long-running TV 'brands' are shuffled off to the retirement home of the small digital channels, Coronation Street will be around for many years to come.
Related Internet Links
The BBC is not responsible for the content of external sites.