Mike Leigh to return to National Theatre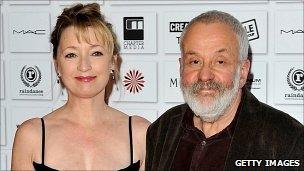 Director Mike Leigh is to return to the National Theatre next year with an improvised play starring long-standing collaborator Lesley Manville.
It will be Leigh's first work at the NT since Two Thousand Years, which opened at the Cottesloe in September 2005.
The new play's themes and characters will be developed during the rehearsal process.
Leigh told the BBC: "It's exactly like my films - when we get to the first night everyone will know what it is."
Manville is Leigh's most frequent collaborator, having worked with the director on films Secrets and Lies, High Hopes, Topsy-Turvy, All or Nothing and Vera Drake.
In Leigh's current film Another Year, Manville plays Mary - a woman on a downward spiral of loneliness who seeks solace in drink and the company of her happily-married friends.
The film has been included in Cannes, Toronto and London, and sees Leigh back with his regular family of actors, including Imelda Staunton and Peter Wight.
Leigh had a best director nomination at this week's British Independent Film Awards, while Manville was nominated for best supporting actress.
The director had no script prepared and the characters were built from scratch during the early rehearsals.
Manville confirmed that it would be the same process on the new play.
"As ever we don't know what it is. Like all his work you start with nothing," she said. "The title comes last, character will start to come on day one of rehearsal, but there's no premise."
The play is set to open in the autumn in the Cottesloe. Manville told the BBC it would be her first time working on that particular stage.
Manville's work at the National includes His Dark Materials, Pillars Of The Community and The Alchemist.
Leigh's many stage plays include Babies Grow Old (RSC, 1974), Abigail's Party (Hampstead Theatre, 1977) and It's A Great Big Shame! (Theatre Royal, Stratford East, 1993).
Related Internet Links
The BBC is not responsible for the content of external sites.