Coronation Street legend on playing Hilda Ogden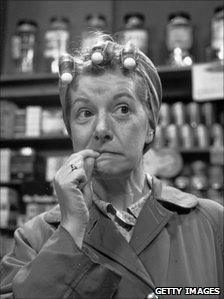 Thousands of characters have come and gone during Coronation Street's 50-year history. But only a few live on in viewers' affections long after leaving the cobbles.
Hilda Ogden is one of them. With her curlers and headscarf, the cleaning lady has remained arguably the most iconic character of the last five decades.
Actress Jean Alexander, who played Hilda, recalls her days on the Street.
When the Coronation Street cast and crew took part in the Manchester Pride parade this summer, they were joined by a troupe of male dancers dressed as Hilda Ogden.
When the show held a Street party to celebrate its golden jubilee, entertainment was provided by hula-hooping Hildas. A flyer advertising a new art exhibition of Corrie legends bore the image of just one former favourite - our Hilda.
Twenty-three years after she last set foot on Coronation Street, Hilda - helped by her distinctive attire - has been popping up everywhere during the anniversary celebrations.
It is perhaps not surprising, given that the lovable busybody drew 27 million viewers, one of the largest audiences in the show's history, when she left on Christmas Day 1987.
In 2005, she was voted the nation's favourite soap character, while in her 1980s heyday, Hilda was behind only the Queen, Queen Mother and Princess Diana in a poll of the most recognisable women in Britain.
"I don't know why she was so popular," considers Jean Alexander, who played Hilda for 23 years.
"I think probably because she was a downtrodden, poor little soul. I think people were sorry for Hilda.
"She went plodding away, doing her best all the time, always aspiring to better things.
"I liked playing her. She was a gift to play," Alexander continues, before concluding with a loud chuckle: "But I wouldn't want her living next door to me."
Hilda was stuck on the bottom rung of the social ladder, frustrated by her layabout husband, constantly scheming and striving to better herself, but never quite managing it.
She was exactly the type of person Jean Alexander was desperate not to become in real life.
Born in Toxteth, Liverpool, Alexander trained as a librarian but turned to acting as a way of escaping a mundane life.
After 12 years working in theatre in the north - learning a play a week - she landed what would become her most famous part in 1964.
By playing that working class underdog, Alexander managed to escape becoming one herself.
The actress says she wanted "to get out of a humdrum, normal sort of existence" that would otherwise have been awaiting her.
The character's look was inspired by real life Hilda Ogdens in Liverpool during World War II.
Women working in munitions factories would tie up their hair to keep it out of the machinery, the actress says, and put in curlers so they were ready in case they happened to be invited out in the evening.
"And that was Hilda too," Alexander explains. "She always had her hair tied up ready - in case. All she had to do was whip the curlers out and give it a flick up with the comb.
"She never did go anywhere that was worth going to - but that's where I got the idea from."
Looking back on the show's history, Alexander's character acting skills, coupled with sharp writing from the likes of Jack Rosenthal and John Stevenson, make Hilda stand out.
A large part of her appeal came from her comic value - whether it was her unbearable singing, her beloved "muriel" (her name for the mural on her living room wall) or her bickering with husband Stan.
But she was not spared the heart-tugging drama.
Alexander formed a close double-act with Bernard Youens, who played the good-for-nothing Stan, and recalls learning her lines while playing Scrabble with him backstage.
When Youens died in 1984, Alexander's quietly devastating solo scene following Stan's on-screen funeral is remembered as one of the most poignant the Street has seen.
Hilda lasted a few more years before moving away to become a doctor's housekeeper in Derbyshire and finally getting the respectability she craved.
Alexander now watches the show occasionally - mainly to see whether her old friends are still in it.
But, she says, it is "not the same as it used to be".
"It hasn't got the character that it used to have," she says. "It's lost its identity somehow for me.
"You look at all the people in it - the young people in it particularly - and hardly any of them have got a job and those who have are only being paid in buttons.
"And yet you never see them in the same clothes twice running. They've got all the latest fashions, the make-up, the hairdos, all this.
"Poor Hilda could only get a pinny off the market every once in a while. It shouldn't be like that - it's too glossy now."
The year after leaving Coronation Street, Alexander was given another long-running part, as Auntie Wainwright in Last of the Summer Wine.
The wizened junk shop owner, on screen for a total of 22 years, was the "absolute favourite part" of her television career.
So when the show was cancelled, she was "devastated", she says angrily. The last episode was shown in August.
The reason she was given - that it was "old fashioned and not edgy enough" - cuts no ice.
"If they're trying to attract a young element, they're not going to succeed because they're all playing with their computers and watching things on iPods and whatnot," she says.
"They're not sitting at home watching television. It's the older people who are watching television, and they're not getting their share of programmes at all."
On Coronation Street, an anniversary return for Hilda would have given the show a boost. And producers did approach her agent saying they were writing Hilda into one episode, Alexander reveals.
But the actress told them she would not go back.
"It's a mistake," she says firmly. "Hilda would be a different person now. She's now achieved her ambition of having some status.
"She wouldn't be the old scrubber Hilda now - oh no. The public would be disappointed - they'd expect to see Hilda the same as she was before.
"It's quit while you're ahead, me. And I did."
Related Internet Links
The BBC is not responsible for the content of external sites.