Birds of America sets £7m sales record at Sotheby's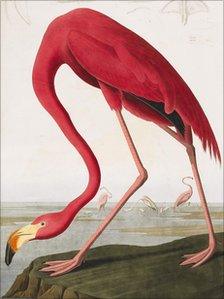 A rare copy of John James Audubon's Birds of America, billed as the world's most expensive book, has sold for more than £7m at auction.
The copy, which comes from the collection of Lord Hesketh, had been expected to fetch up to £6m.
Only 119 complete copies of the 19th-Century book are known to exist, and 108 are owned by museums and libraries.
A separate edition of the book on ornithology sold for a record-breaking price of $8.8m (£5.7m) a decade ago.
It contains 1,000 life-sized illustrations of almost 500 breeds and took wildlife artist John James Audubon 12 years to complete.
He did so by travelling across America, shooting the birds and then hanging them on bits of wire to paint them.
The artist then went to Britain to print the volumes and targeted the rich to buy copies.
London dealer Michael Tollemache, who bought the copy at the Sotheby's auction, said the book was "priceless".
Lord Hesketh's collection also included a rare copy of Shakespeare's First Folio, which Sotheby's said was "the most important book in all of English Literature".
Of the 750 that were probably printed, only 219 are known to exist today.
The copy, which dates back to 1827 and has three pages missing, sold for £1.5m.
It is one of only three textually complete copies to exist in private hands in a comparably early binding.
Related Internet Links
The BBC is not responsible for the content of external sites.