Piers Morgan admits nerves over replacing Larry King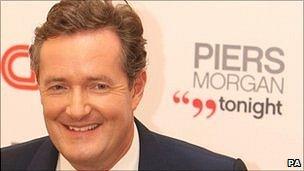 Piers Morgan has compared taking over from veteran chat show host Larry King with following "Sinatra at Vegas".
The former newspaper editor and Britain's Got Talent judge described King, who started his CNN show in 1985, as an "absolute institution".
The 45-year-old was speaking at a launch party in London for the series, which will be called Piers Morgan Tonight.
It will be shown in 200 countries and is expected to start in January.
It was announced that Morgan would replace King in September.
"It's like following Sinatra at Vegas. No-one remembers that guy's name," he said.
King announced in June that he would step down as host of the show in the autumn.
The 76-year-old recently made it into the Guinness Book of World Records for the longest-running show with the same host in the same time slot.
Morgan is already familiar to US audiences from the judging panel of America's Got Talent.
Among the guests at Tuesday's event were Bruce Forsyth, Naomi Campbell and former Prime Minister Gordon Brown.
"I was talking to Bruce and he said 'I've been trying to crack America for 63 years' and he said 'No offence Piers, you don't sing, you don't dance, you're fairly irritating. How have you managed to do this?,'" Morgan said.
Morgan said his new role was a "dream job" before adding that he is trying to secure US President Barack Obama as his first guest calling him "the most significant figure on the planet".
Related Internet Links
The BBC is not responsible for the content of external sites.