Coen Brothers film to open Berlin Film Festival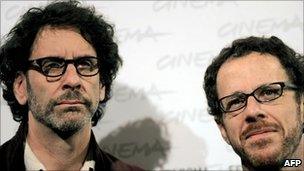 Oscar-winning directors Joel and Ethan Coen's latest film True Grit will open the Berlin Film Festival.
Festival director Dieter Kosslick said they captivate audiences with their "penchant for irony and off-the-wall characters and stories".
Since their debut film Blood Simple in 1984, The Coen brothers have had several big hits including Fargo, A Serious Man and No Country for Old Men.
The festival is due to take place in the German capital from 10-20 February.
True Grit is a remake of John Wayne's 1969 movie of the same name.
The story is about a 14-year-old called Mattie, who sets out to find the man who murdered her father.
Jeff Bridges, Matt Damon and Josh Brolin star in the latest version of the film.
The movie will premiered and screened out of competition in Berlin.
The judging panel at the event will be headed by actress Isabella Rossellini.
Related Internet Links
The BBC is not responsible for the content of external sites.