Royal Shakespeare Company to work with amateur theatres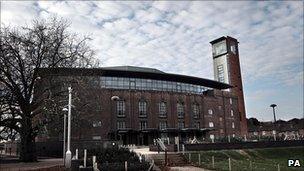 The Royal Shakespeare Company is inviting amateur theatre groups to pitch ideas to make their own Shakespeare-themed productions.
Would-be participants are being asked to submit an idea as part of the RSC Open Stages project.
Applications can include a text, an evening of sonnets, or a devised piece inspired by the Bard of Avon.
A selection of the performances will be showcased at the RSC theatres in Stratford-upon-Avon in 2012.
Eight regional theatres will work with the amateur groups to help them improve their skills.
All amateur groups across the UK can apply and there is no limit to how many can take part.
The initiative was applauded by Tony Gibbs of the National Operatic and Dramatic Association, an organisation representing amateur theatre.
The scheme would be a great opportunity for groups "to look at how they can raise their game," he is quoted as saying by the Stage newspaper.
The RSC recently unveiled its revamped theatres in Stratford-upon-Avon, a redevelopment that cost £112 million.
The Royal Shakespeare and Swan theatres will be formally reopened in April 2011 to coincide with the RSC's 50th anniversary celebrations.
Related Internet Links
The BBC is not responsible for the content of external sites.