Joanne Froggatt: 'I'm still a little bit in shock'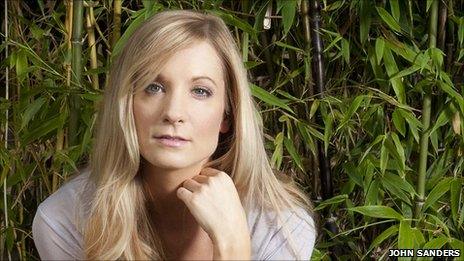 She's starred in one of the biggest TV hits of the year, but Joanne Froggatt has just made her first movie - and it's already won her an award.
The Downton Abbey star plays a soldier coping with post-traumatic stress in the film In Our Name, released this weekend.
Froggatt has been a regular face on TV for 14 years, including a stint in Coronation Street in the 1990s.
Yet her win for most promising newcomer at the British Independent Film Awards (Bifas) on Sunday has left her in state of disbelief.
"I dreamt about it last night," Froggatt confides when we meet two days later at a rehearsal space in west London.
"I keep thinking I'm going to wake up and it's not going to have happened. I'm still a little bit in shock, but it's a lovely kind of shock."
The Yorkshire-born actress is currently preparing for roles in two plays that will run side-by-side early next year at London's Bush Theatre.
In February, she begins filming the second series of ITV's hit costume drama Downton Abbey from Oscar-winning scriptwriter Julian Fellowes, in which she plays Anna, the head housemaid.
Has she been surprised by Downton's success?
"I don't think any of us imagined that it would have the reaction that it has. Julian is a genius at writing stories based around that genre, he writes the so beautifully for characters in an ensemble cast."
She admits she has no idea what's in store for her character in the new series, which will be set during World War I.
"It would be quite nice to see Anna and Mr Bates get together, but then it would be good if they carry on with their will-they-won't-they relationship. Brendan Coyle and I just love doing our scenes together."
Froggatt's first major TV role was as single teenage mum Zoe Tattersall in Coronation Street in 1997-98.
"I was 16, just about to turn 17," she recalls. "I didn't expect to be thrown in and start working at such a young age. I learnt so much on that that job and the older more experienced actors took me under their wing."
Does she still manage to keep up with the show, especially in its 50th anniversary year?
"I don't get a chance to watch the soaps at all because I'm never in a routine, but Corrie has a special place in my heart, so I do like to have a vague idea what's going on."
Froggatt's other TV credits include Murder in the Outback, Robin Hood and Life On Mars.
In her first film, In Our Name, Froggatt is Suzy, a soldier readjusting to being a mother after serving in Iraq.
Suzy arrives home to a hero's welcome, but reunited with her husband and daughter it soon becomes clear that all is not well.
In Our Name was written and directed by Brian Welsh after he became interested in reports that women were being involved in front-line combat for the first time.
The film explores post-traumatic stress disorder (PTSD) from a female perspective, which Froggatt says meant "masses of research".
She immersed herself in books and documentaries and spoke to female members of the armed forces. She also visited Combat Stress, a charity dedicated to working with sufferers of PTSD.
"That was probably the most useful research," says Froggatt, "because after having all the facts and figures it was amazing to sit with people and talk to them and get the human side."
The 30-year-old actress is keen on more film roles after she's finished filming Downton Abbey. But her next engagement is in two plays as part of the Bush Theatre's Schools Season.
In John Donnelly's play The Knowledge she plays the lead role of a teacher in a failing school, and she is a civil servant in Steve Waters' Little Platoons.
Does this mean more intensive research?
"It's early days. We will be visiting a school and both writers have a background in the education system, so they've been a fountain of knowledge."
But Froggatt doesn't ever see herself switching professions.
"I think it's an incredibly hard job just from the little bit we've learnt so far. Teaching is a talent itself, but I don't think it's my forte."
Froggatt fans don't have to wait until Downton Abbey to see her again on the small screen.
She plays Anthony's girlfriend in a seasonal special of comedy show The Royle Family, which will air on Christmas Day on BBC One.
"I'm heavily pregnant," reveals Froggatt, "but that's all I'm allowed to say!"
In Our Name opens in selected cinemas on Friday 10 December, and is also available via the Curzon On Demand service. The Knowledge and Little Platoons open at the Bush Theatre in Shepherd's Bush Green, London W12 at the end of January.
Related Internet Links
The BBC is not responsible for the content of external sites.