Katie Price complains to Ofcom over Frankie Boyle gag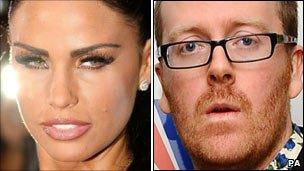 Reality TV star Katie Price has complained to Ofcom about a "vile" joke Frankie Boyle made about her disabled son Harvey during his Channel 4 show.
Viewers of Boyle's Tramadol Nights were warned the show on Tuesday included "very strong language" just before it was broadcast.
Media regulator Ofcom confirmed an investigation has been launched.
Channel 4 said it "would be inappropriate for us to comment further."
Price announced on Thursday that she had asked her lawyers to contact Ofcom if Channel 4 did not apologise.
A spokeswoman for the channel said: "Channel 4 has replied directly to Katie Price's lawyer. Given this has now gone to Ofcom it would be inappropriate for us to comment further."
In a statement, Price described her son Harvey, who suffers from Septo-Optim Dysplasia and autism as "a little miracle".
She added: "Every day he overcomes so many difficulties with the help of family and medical experts and has so many tiny battles to win due to his medical problems.
"If Mr Boyle had a 10th of his courage and decency he would know that to suggest, let alone think funny, that Harvey may sexually attack me is vile and deeply unfair."
Boyle has become known for his controversial stand-up routines.
In April, he had an on-stage argument with the mother of a child with Down's syndrome after making fun of the condition.
In 2009, the BBC Trust said satirical gameshow Mock The Week breached editorial guidelines over a Boyle joke about the appearance of Olympic swimmer Rebecca Adlington.
Ofcom said a judgement made over Boyle's comments would not be determined until the new year.
Related Internet Links
The BBC is not responsible for the content of external sites.