Bon Jovi top Billboard touring chart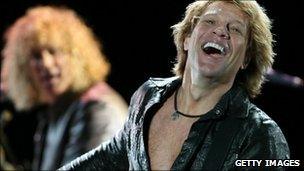 Bon Jovi were the most successful live act of the year with takings of $146.5m (£93.1m), Billboard magazine has found.
They took the total between 20 November 2009 and 28 November 2010 by selling 1,591,154 tickets in 69 gigs as part of their The Circle tour.
Fans bought tickets "because they're willing to spend their disposable dollars", singer Jon Bon Jovi said.
Bon Jovi were also the highest-grossing live act of 2008, having taken $210m (£133.4m) on its Lost Highway tour.
The Grateful Dead achieved the feat in 1991 and 1993, with the Rolling Stones emulating it in 1998 and 1999.
Jon Bon Jovi, 48, said he was "very proud" of the band's achievement and said Irish band U2 - beaten to second place in the chart - must be "paying attention".
"It doesn't mean anything to the public," he added. "But in the industry, all your peers are going to look at it."
Bon Jovi's The Circle Tour has taken in North America, a 12-night residency at London's O2 Arena and countries including Japan, Australia and New Zealand.
When it finishes in Portugal on 31 July 2011, the band plans to have played 135 shows in 30 countries.
U2 took $131.5m (£83.6m) on the second leg of its 360 Degree tour, performing to 1,312,784 people in 22 sell-out shows.
They were followed by AC/DC, ranked third with $122.6m (£77.9m), and Lady Gaga, in fourth place with $116.2m (£73.9m).
Hip-hop collective Black Eyed Peas, currently top of the UK singles chart with The Time (Dirty Bit), round out the top five with takings of $81.6m (£51.9m).
Related Internet Links
The BBC is not responsible for the content of external sites.